As nature awakens in vibrant hues, the Riverina region welcomes the season of spring events with open arms. It's a time when the countryside bursts into life, and communities across the region come together to celebrate.
Every weekend is a new adventure, with a diverse array of events that cater to every interest and age group. From heart-pounding races to the timeless charm of country shows, from indulgent long lunches to captivating community theatre productions – there's something for everyone.
Hay Show
Saturday 9 September
Everyone loves a country show! Take a stroll along the grassed area, visit the pavilion filled with wonderful homemade goods and cooking competitions, and finish the evening with a wonderful display of fireworks.
Venue: Hay Show Grounds, Showground Road, Hay
Time: Gates open at 9am
Cost: Adult $15
---
Long White Lunch
Saturday 9 September
Enjoy a Long White Lunch at the Hillston Showgrounds – a day about food, friends, fundraising, music and laughter!
Venue: Hillston Showgrounds, 9109 The Springs Road, Hillston
Time: from 12pm
Cost: Adult $100
---
The Wedding Singer
Wednesday 13 – Saturday 23 September
The Wedding Singer takes us back to a time when hair was big, greed was good, collars were up and a wedding singer might just be the coolest guy in the room.
Venue: Griffith Regional Theatre, 1 Neville Place, Griffith
Cost: Adult $50 | Concession $45 | Child $30
---
Hay Glow
Friday 15 September
Pack up the family or bring your friends to what is leading up to being a wonderful evening of fun, and entertainment, with floating lanterns being launched onto the Hay Pond.
Venue: Hay Park Pond, Corner of Morgan and Pine streets, Hay
Time: 5pm – 9pm
Cost: Free
---
Rankins Springs Town Centenary 1923-2023
Friday 15 – Sunday 17 September
Join the Rankins Springs community in celebrating the town's centenary with plenty of events held over the weekend.
From breakfast, to kids activities, live music, to historical exhibit and Saturday night fireworks, there's something for the whole family to enjoy.
Venue: Rankins Springs
Time: Gates open 9am
Cost: Adult $10 | Child $5 | Family pass $25
---
Hillston Show
Saturday 23 September
Come along for a great family day out, with horses, poultry, sideshows and much more.
Venue: Hillston Showground, 9109 The Springs Road, Hillston
Time: Gates open 9am
Cost: Adult $10 | Child $5 | Family pass $25
---
Lockhart Picnic Races
Friday 29 September
The Picnics have continued to draw crowds from near and far, which has long been considered one of the best races in country NSW.
Venue: Lockhart Showground, Treasure Street, Lockhart
Time: Gates open 12pm
Cost: Non-members $25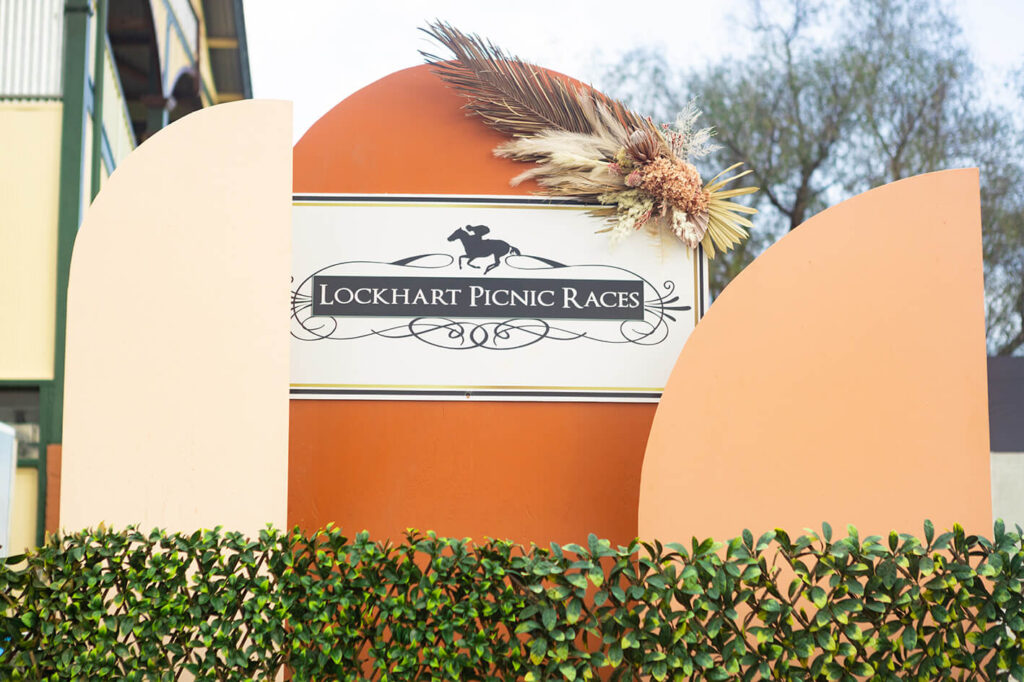 ---
Leeton Pride Festival 2023
Friday 29 September – Sunday 1 October
Are you ready to experience a celebration of love, inclusivity, and acceptance like never before? Get ready to immerse yourself in a weekend filled with fabulous events, glittering parades, and unforgettable performances at Leeton's inaugural Pride Festival.
Venue: Mountford Park, 4 Jarrah Street, Leeton
Cost: Free
---
Booligal Sheep Races
Saturday 30 September
The Booligal Sheep Races are a truly unique outback event that has been running for over 20 years. The day features heats of 5 sheep all vying to take out the Booligal Cup.
Venue: Booligal Cricket Gound, Booligal
Times: 11am – 5pm
---
Leeton Show 2023: A Celebration of Agriculture and Community
Friday 6 – Saturday 7 October
A spectacular agricultural event packed with free entertainment, exhibits, and fun for the whole family. From fine produce to local crafts, animal husbandry, and sportsmanship, the Leeton Show truly reflects the essence of our magical region.
Venue: Leeton Showground, Leeton
Cost: Free
---
Spirit of the Land
Saturday 7 – Sunday 8 October
The Spirit of the Land Festival is a colourful and vibrant celebration of the land. With fine and Indigenous art, photo exhibitions, extensive high-quality markets, fabulous foods, open gardens, live music, farm tours, vintage vehicles and the Leeton Lions train rides, the Festival is a fantastic experience for friends and family to enjoy.
Venue: Green Street and Brookong Lagoon, Green Street, Lockhart
Cost: $10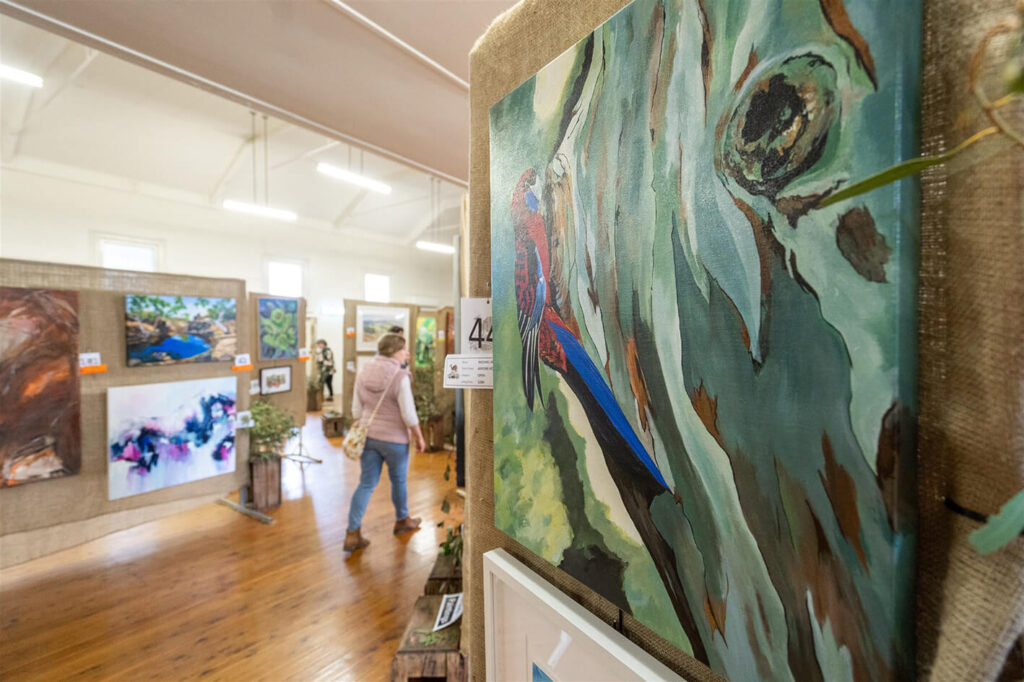 ---
Citrus Sculptures – Griffith Spring Fest 2023
Sunday 8 – Saturday 21 October 2023
Over 60 creative and unique Citrus Sculptures will line Banna Avenue for two weeks. Witness this remarkable display made from over 100,000 locally grown oranges and grapefruit.
Venue: Banna Avenue, Griffith
Cost: Free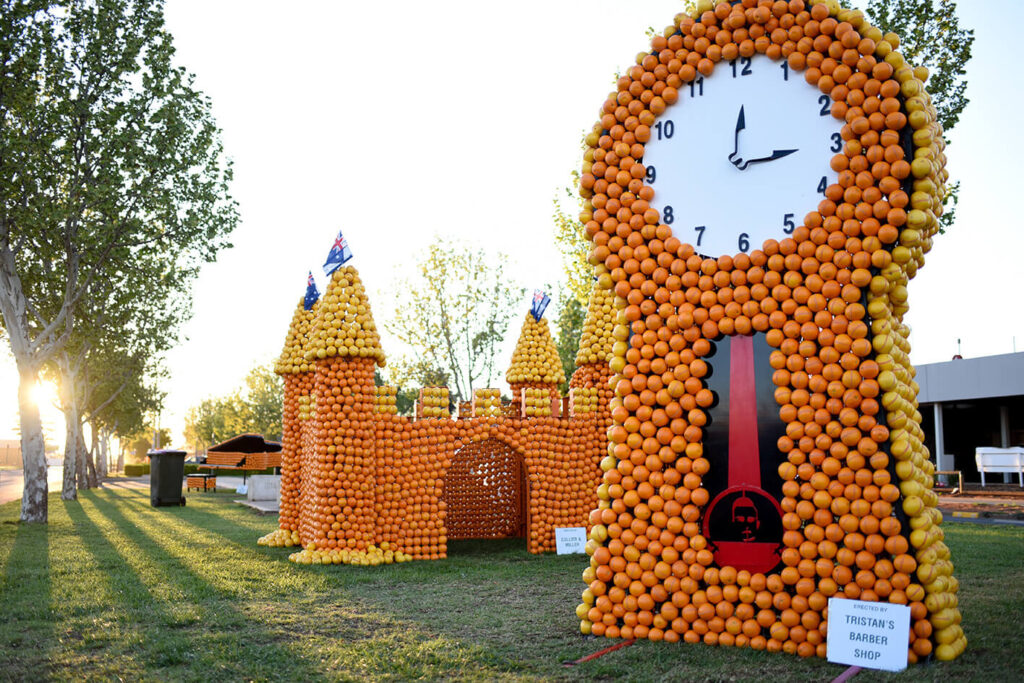 ---
West Wyalong Hearts of Gold Festival
Friday 13 October – Sunday 15 October
The Hearts of Gold Festival will begin at Ron Crowe Oval, for a night of music, food and entertainment. Many more events will take place over the weekend, including the world record attempt for the most people gold panning simultaneously on the Saturday. Come and be part of the momentous event!
Venue: West Wyalong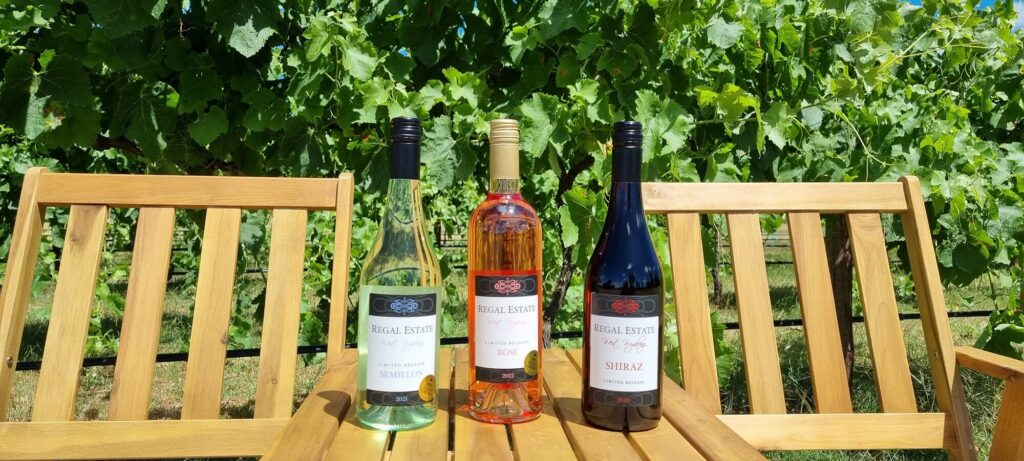 ---
LINX Launch Party – Griffith Spring Fest 2023
Friday 13 October
Celebrate the launch of the Citrus Sculptures and Open Gardens at the street party amongst the sculptures with children's activities and entertainment for the whole family to enjoy. Indulge in local food and wine available to purchase.
Venue: Griffith Tourism Hub Car Park, Corner Banna & Jondaryan Avenues, Griffith
Time: 5pm – 8.30pm
Cost: Free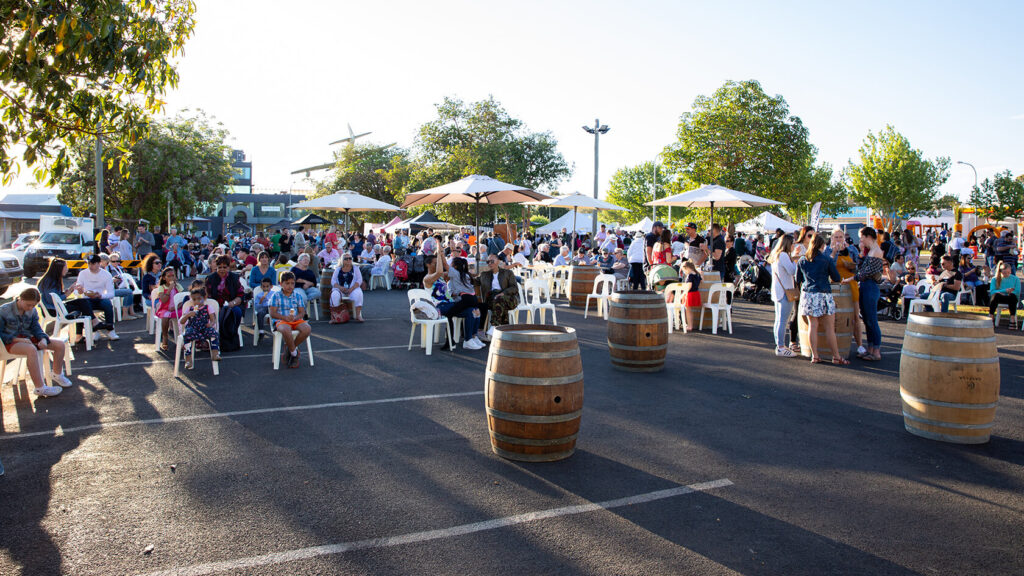 ---
Open Gardens – Griffith Spring Fest 2023
Saturday 14 – Sunday 15 October 2023
You're invited to celebrate 31 years of open gardens as part of Griffith Spring Fest, with six exclusive gardens for you to explore.
Venue: Various locations throughout Griffith
Time: 10am – 4pm
Cost: Entry $8pp | Under 16 years free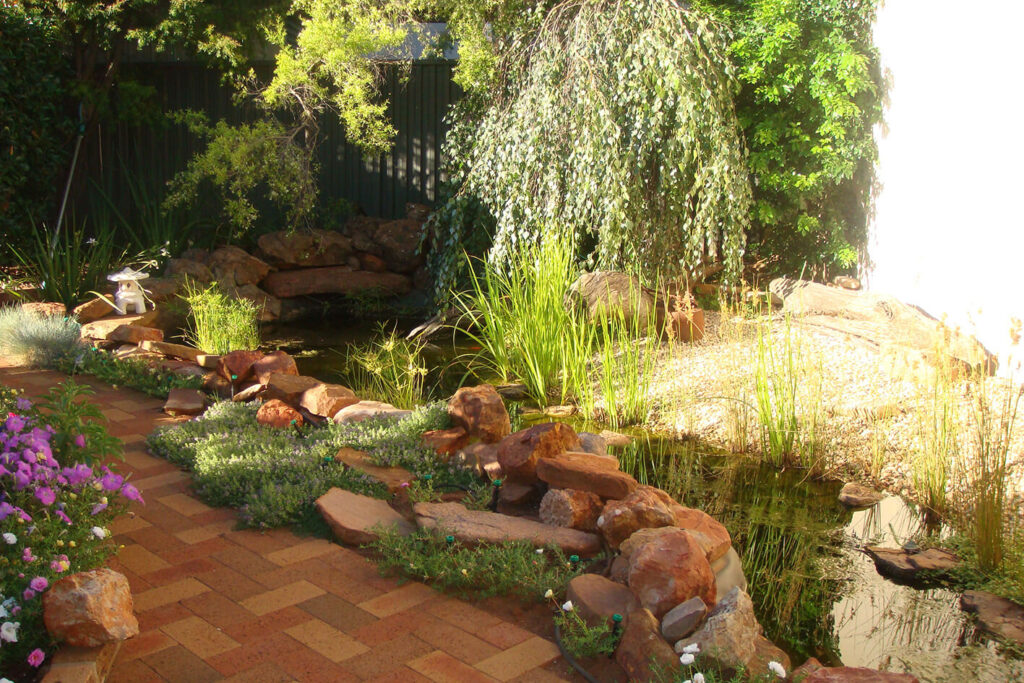 ---
Chill and Grill Leeton 2023
Saturday 14 October
Welcome to Chill and Grill Leeton 2023, the most anticipated food festival in the picturesque heart of Riverina! We invite you to indulge in a gastronomic adventure, where culinary delights and good vibes collide. This is a family-friendly event, so bring your loved ones and enjoy a day of fun together.
Venue: Mountford Park, 4 Jarrah Street, Leeton
Time: 2pm – 9pm
Cost: Free
---
Narrandera Spring Fair
Saturday 21 October
Celebrate spring in Narrandera with a spring fair along East Street, including market stalls, kids entertainment, workshops for all ages, and live music or visit Narrandera Auto Club at Victoria Square for their Show n Shine. Spend the day in town or stay for the weekend to explore the sights of Narrandera.
Venue: Narrandera
Time: 10am – 2pm
---
A Day at the Lake
Saturday 21 October
Calling all adventure seekers! Get ready to embark on a journey like no other at Temora Aviation Museum's A Day at the Lake. Spectators will be able to enjoy the culinary delights from food vendors from across the Riverina region, and market stalls showcasing and selling local goods.
Venue: Lake Centenary, Goldfields Way, Temora
Time: 11am – 9pm
Cost: Adults (17+) $65 | Child (3-16) $25, Child U3 Free | Family $140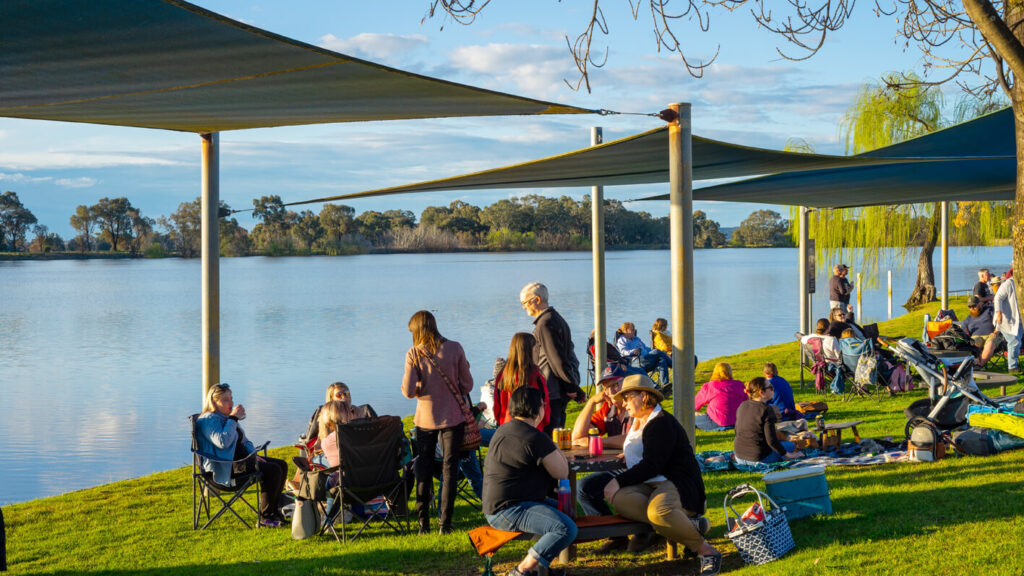 ---
Rock the Bidgee – Gundagai
Saturday 28 October
Rock the Bidgee in Gundagai and seize the moment to immerse yourself in a day filled with electrifying live music & great food.
Venue: Gundagai Showground, O. I. Bell Drive, Gundagai
Cost: $15
---
Tackle the Track
Saturday 4 November
Join us for a bike ride and walk using the tracks and trails around Coolamon and Ganmain. Followed by a family fun morning and afternoon in Redgrave Park with entertainment, activities and food vendors.
Venue: Redgrave Park, Coolamon
Cost: Free
---
Leeton Outback Band Spectacular 2023
Friday 10 – Sunday 12 November
The Leeton Outback Band Spectacular brings together individual concert bands from various regions, creating a harmonious celebration of music and community. Each band will showcase their unique repertoire and skills, leaving the audience delighted with their enchanting melodies.
Venues: Mountford Park, 4 Jarrah Street & Leeton Soldiers Club Auditorium, Corner Acacia & Yanco Avenue, Leeton
Time: 9am – 5pm & 7pm
Cost: Free
---
Rainbow on the Plains – 2023 Titanium
Friday 17 – Sunday 19 November
The Rainbow on the Plains is a festival of fun, support, inclusion and celebration of LGBTQIA+ community, people from culturally diverse communities and anyone who loves to celebrate inclusion.
Venue: Hay
Cost: Ticketed section and free events
---
Hay Races
Saturday 25 November
And they're off! The races are the biggest day on the Hay social calendar as the town swells with racegoers. The Fashions on the Field is the largest in country NSW and the Hay Gold Cup attracts horses from across the State.
Venues: Hay Show Grounds, Showground Road, Hay
Cost: Adult $20
---