Australian Road Transport Heritage Centre – Dinner and Road Run
Saturday 10 – Sunday 11 June 2023
Are you a lover of all things big and mechanical? Or do you just love admiring the unique history of times gone by? The Australian Road Transport Heritage Centre in Gundagai will be hosting their annual dinner and road run this June long weekend down at the Gundagai Showgrounds.
The 3-course dinner on Saturday, 10 June is a pre-pay event, bookings must be made by Thursday, 1 June via their website. During the night there will be a small auction and speakers.
On Sunday, 11 June, the Road Run departs as a convoy down the main street of Gundagai at approximately 10am. The convoy will then enter the highway and turn onto Sylvia's Gap Road at Tumblong, before turning around at the end to head back to the showgrounds either via the same way or via Adelong & Tumut.
If you can't make it to Gundagai for the long weekend, the Australian Road Transport Museum is open 10am – 3pm from Friday to Sunday all year round and worth checking out.
Venue: Gundagai Showgrounds, O. I. Bell Drive, Gundagai
Cost: Saturday Dinner: $55 per seat. This includes a 3-course meal.
---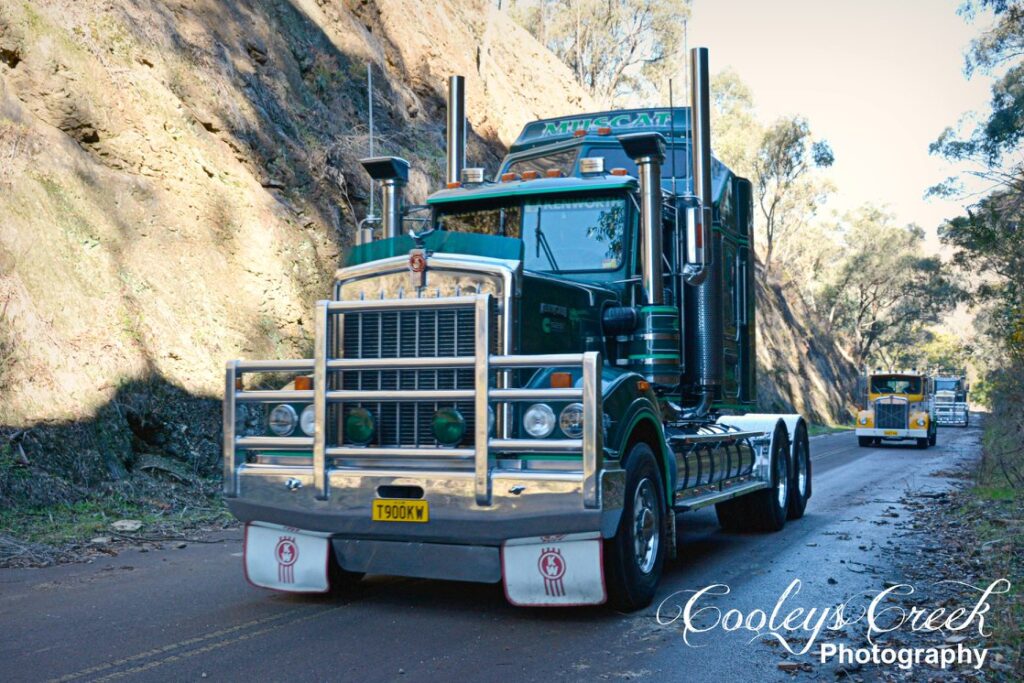 ---
---
Art Festival on Ford
Friday 23 June – Sunday 25 June 2023
The Art Festival on Ford is a three-day festival with pop-up galleries, art experiences and displays. Browse and experience a collection of artists displaying works in shops along Ford Street in Ganmain.
Plan a visit with friends and wander from 10am to 3pm over the three days.
Where: Ford Street, Ganmain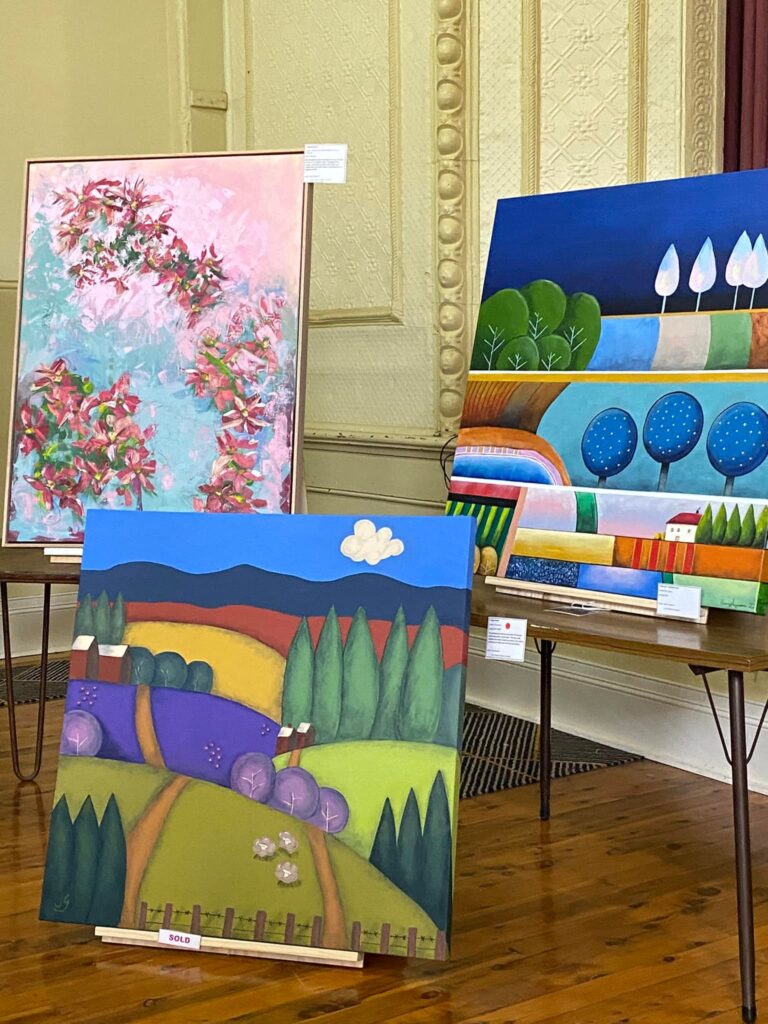 ---
---
Waste to Art Travelling Exhibition
Various dates between Wednesday 21 June and Tuesday 8 August 2023
Waste to Art is an exciting community art competition and exhibition showcasing reused and recyclable waste materials. This innovative challenge invites schools, community groups and individuals to transform rubbish into art and design.
The competition and exhibition complement our focus on managing waste better in our Council area. An important part of this is the Council-wide introduction of organics waste collection (FOGO) and recycling collection for Jerilderie residents.
Exhibition Dates and Venues:
Gala opening: 21 June 2023 at Kerri Weymouth Art Studio & Gallery, 25-27 Brolga Place, Coleambally
Coleambally – 21 June to 4 July 2023 at Kerri Weymouth Art Studio & Gallery, 25-27 Brolga Place
Darlington Point – 7 to 21 July 2023 at Murrumbidgee Shire Hall, Carrington Street
Jerilderie – 25 July to 8 August 2023 at The Willows Homestead, 15 Powell Street
Cost: Free
---
---
---
Jerilderie Apex BNS Ball
Saturday 29 July 2023
The longest running ball in the Riverina, the Jerilderie Apex BnS Ball is coming back this winter for the 60th anniversary of the ball.
Venue: Jerilderie Racecourse, Showground Road, Jerilderie
---
---
---
Riverina Vintage Machinery Club Rally & Tractor Pull Coleambally
Saturday 12 – Sunday 13 August 2023
The biannual Riverina Vintage Machinery Club Rally and Tractor Pull is returning to Coleambally this August!
Held over two days, it features the starting of the giant Bucyrus dragline at Coleambally's entrance, a vehicle trek, vintage tractor pull and many displays.
The Bucyrus Erie dragline, an amazing piece of construction machinery, is located in the Lions Park at the entrance to town (on the corner of Kingfisher Avenue and Kidman Way). It truly represents the beginnings of Coleambally, as without this excavator to construct the extensive irrigation system, the town would not exist. It's one of only four machines that were imported from the USA and used to excavate the main channels in the Murray Valley.
After finishing the Mulwala canal in the Murray Valley, it was brought to Coleambally to commence the canal work in the local area. On completion, the machine was driven to the Lions Park. It's still in working order and comes back to life when the Riverina Vintage Machinery Club hold their biannual rally in August.
Venue: Lions Park, Kidman Way, Coleambally
---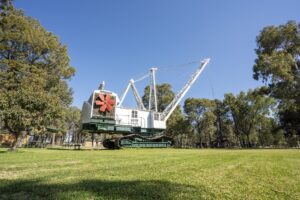 ---
---
Ganmain Show
Saturday 19 August 2023
Ganmain Show is a fun packed day out for the whole family. Enjoy all the nostalgia of a true country show with the fan fair of sideshow alley and entertainment.
A true country show has an electric atmosphere and a vibe that makes you want to put the date in your diary for next year before you head home. You will want to come back year after year.
Venue: Ganmain Showground, Showground Road, Ganmain
Time: 9am – 8pm
Cost: Adults $15 | Child $5 | Concession $10 | Family $30
---
---
---
Yield Festival
Friday 25 August 2023 – Monday 2 October 2023
A celebration of creative arts in the Coolamon Shire. A collection of events, workshops, performances, and experiences that highlight the makers, thinkers, and creators in our community.
The highlight of the festival will be the coming together of two longstanding events within the Coolamon Shire arts scene. Capture Coolamon Shire Photographic Competition, and the Up2Date Art Exhibition are combining to create a premier exhibition held within the Up-to-Date Store Cultural and Learning Precinct. This year's festival will launch with a gala evening, featuring live entertainment, food trucks and drink vendors. The gala evening will be held on Friday 25 August 2023.
Venue: Coolamon Up-to-Date Store, Corner Loughnan and Cowabbie Streets, Coolamon
Cost: Free entry
---
---
---
Up2Date Art Exhibition
Saturday 26 August to Sunday 10 September 2023
The Up2Date Art Exhibition celebrates a diverse range of artworks by bringing together artists from across the Riverina region in all mediums. The exhibition is open to established & new and emerging artists to display their artwork, with the 2023 theme being Nostalgia.
The exhibition is presented by Up2Date Art Inc. and will run for two weeks in conjunction with the Capture Coolamon Photographic exhibition.
Artists looking to enter the 2023 Exhibition can find more details and information on the Up2Date Art Inc. website or email the Committee. Entries close on Monday 9 August 2023.
Opening hours: 10am – 4pm
Venue: Coolamon Up-to-Date Store, Corner Loughnan and Cowabbie Streets, Coolamon
Cost: Gold coin donation