Is there anything better than cosying up to a roaring fire with your preferred beverage in hand after a day out in the chilly winter air?
Centrally located in the heart of West Wyalong's Main Street or "crooked mile" as the locals call it, the historic Royal Hotel provides quality counter lunches and casual evening dining with a fireplace. Fresh produce is sourced from local suppliers in the Riverina. Comfortable accommodation is also on offer with single, double, twin and family rooms available.
The Royal Hotel dates back to 1895 and has been beautifully restored to reflect the history of the time. It is a quality, boutique-style hotel that offers a wine bar, fine dining, coffee lounge, casual meals and caters for wedding ceremonies, receptions, and functions.
Opening Hours:
Tuesday – Thursday 10am – 10pm
Friday 10am – 2am
Saturday 8am – 2am
Sunday 8am – 12pm
173 Main St, West Wyalong, NSW
Head over to the Cootamundra-Gundagai area and enjoy the atmosphere at Lott's Family Hotel – the hotel where good friends meet! This historical Hotel is one of the popular watering holes in Gundagai. Call in for a counter lunch – delicious meals at low prices, children especially catered for. The Family Hotel has Resch's, Carlton Dry, Great Northern, and Toohey's Old on tap and a wide range of packaged beers. There is an extensive cellar of wines for every occasion. You can enjoy your meal and a cold one in the lovely warmth of the Family Hotel.
Opening Hours:
Monday – Saturday 10am – 10pm
Sunday 11am – 10pm
213 Sheridan St, Gundagai NSW 2722
The Criterion Hotel in Gundagai is a historic pub loved by locals and visitors alike. This family-friendly establishment is in the heart of Gundagai, within walking distance from cafes, shops, and attractions. The Criterion Hotel also offers accommodation with a friendly atmosphere and offers some of the best filling hearty meals for the winter season!
Opening Hours:
Lunch Monday – Sunday from 12pm – 2pm
Dinner Monday – Saturday from 5.30pm – 8.30pm.
Pizzas available 7 nights a week from 5pm
172 Sheridan St, Gundagai, NSW
Gundagai District Services Club – Banjo's Kitchen is a collaboration between Gundagai Services Club & the awarded winning team from Create Catering. They serve up hearty, rustic meals using the finest local produce and suppliers, all within the warmth of the restaurant located inside the Gundagai District Services.
Opening Hours:
Sunday – Thursday 9.30am – 10pm
Friday and Saturday 10am – 12am
254 Sheridan St, Gundagai, NSW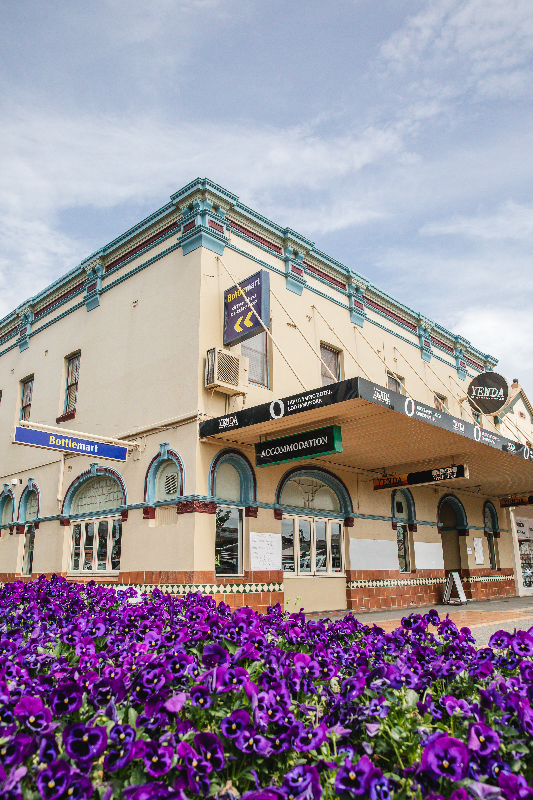 The Olympic Hotel in Cootamundra offers classic pub fare in a modern setting. The Hotel also functions as a cafe in the daytime, serving delicious coffee, tea, and cake. A selection of craft beers is also available at the bar.
Opening Hours:
Tuesday – Thursday 8am – 2pm, 5pm – 9pm
Friday & Saturday 8am – 10pm
Sunday 8am – 3pm
202 Parker St, Cootamundra, NSW
The Albion Hotel – this old-fashioned Cootamundra pub has a warm and welcoming nature about it and shows off its history beautifully with pressed tin ceilings. Located in the main street, you will be close to shops, cafes, and other activities. You can't beat the cold beer on tap and the country atmosphere.
Opening Hours:
11am – 8pm (later on weekends)
Bistro open:
Wednesday – Saturday Lunch & Dinner
Sunday Lunch Only
267 Parker St, Cootamundra, NSW
A warm country welcome always awaits you at the Coota Ex-Services Club, Cootamundra's premier home for great food. If you have just a few hours to spend, or are planning a short holiday, you will find The Coota Club has all you need and more for a great experience in one of Australia's friendliest towns.
Opening Hours:
Monday – Sunday 10am – 12am
299 Parker St, Cootamundra, NSW
The Shamrock Hotel Temora, or the Shammy as the locals call it, has something going on every night this winter.
Woodfire pizza night has your Monday dinners sorted, or perhaps Parmy and Schnitzel Tuesdays is more to your taste. From Wednesday to Sunday the Shamwok kitchen is open selling traditional Chinese food that will make your mouth water.
Pull up a stump in the beer garden by the fire bucket, or dine inside.
Check the Shamrock's Facebook page for upcoming live music held once or twice every month… there's always something happening at this popular and friendly pub in Temora!
Opening Hours:
Monday – Sunday for dinner from 6pm
286 Hoskins Street, Temora NSW