Fanny Lumsden at the Montreal Theatre, Tumut
Great news! The Snowy Valleys own (and new mum) Fanny Lumsden will be playing in Tumut on March 26th 2022 at the historic Montreal Theatre as part of Great Southern Nights.
ARIA Award, 8x Golden Guitar, AIR Award-winning artist Fanny released her third studio album, Fallow, on Cooking Vinyl Australia/Red Dirt Road Records and it recently took out Best Country Album at the 2020 ARIA Awards.
Get your tickets fast as they are limited through: @greatsouthernnights or​​https://events.humanitix.com/great-southern-nights-fanny-lumsden.
Date: 26th March
Time: From 7pm
Location: Montreal Theatre Tumut
Cost: Adults: $30 Kids (1-17): $15 Family (2x adult, 2x kids)= $95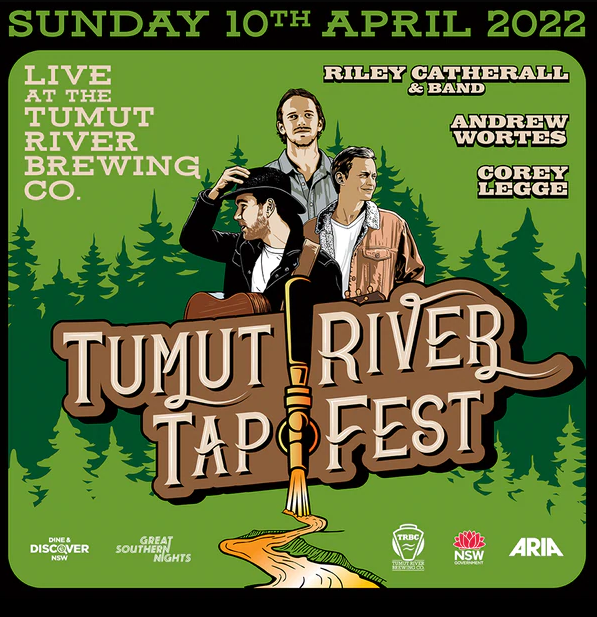 Brews and bands at Tumut River Tap Fest
This is the mini version of the Tumut River Brewing Company annual Craft Beer Festival 'Tumut River Tap Days' which is held on the last weekend in November annually.
Tumut River Tap Fest on the 10th of April brings together a variety of musicians from near and far for a cruisy Sunday session at the brewery – enjoy a day of live music, craft beer, and food in the company of your mates!
Confirmed artists – Riley Catheral + band (Melbourne), Corey Legge (Wollongong), Andrew Wortes (Tumut).
Date: 10th April
Time: From 1pm
Location: Tumut River Brewing Co
Cost: $15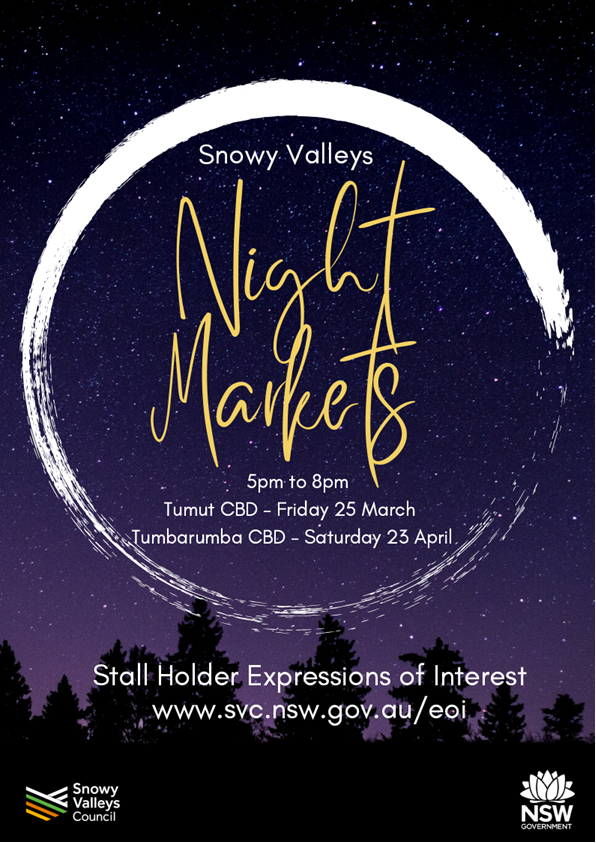 Snowy Valleys Night Markets, Tumbarumba
Snowy Valleys Council is partnering with the Tumbarumba Chamber of Commerce to bring Night Markets to the Tumbarumba CBD.
The markets will bring the CBD to life after hours providing an open-air street fair feel under the moonlight with specialty stalls hosted by local businesses and producers.
Date: Saturday 23rd April
Time: From 5pm
Location: Tumbarumba CBD
Cost: Free
Weethalle Country Music Muster 2022
Bring your caravan, tent, or book accommodation- you do not want to miss this year's Country Music Muster in Weethalle, Bland Shire.
Filled with amazing artists: Tom Maxwell, Brian Letton, Sharon Heaslip, Greg & Trudy Hintz, The Byrnes Sisters and many more.
Friday afternoon is the camp oven damper competition.
Friday night is party night. Saturday is a full program and on Sunday, join the poet's breakfast.
Bring your own seating to the undercover area, food and drinks will be available daily. Raffles and prizes to be won!
Friday, Non-campers = $10
Saturday, Non-campers =$25
Sunday, Non-campers = $20
Contact Gayle Clark for event and camping bookings: 0428757337, 02 69757337
Date: 26th April to 1 May 2022
Time: 9am
Location: Weethalle Showground
Cost: Various
Enjoy the autumn colours at the Falling Leaf Festival, Tumut
Autumn in Tumut offers one of the most spectacular displays of seasonal colours to be found anywhere in New South Wales.
In 1954 the local headmaster, Alf Wood, introduced the idea of a festival to celebrate the arrival of autumn and the falling leaves, which characterise the town's many parks and gardens. Alf enlisted the support of the Rotary Club of Tumut, and The Tumut Festival of the Falling Leaf was born.
The initial aim of the festival was to foster an appreciation of nature's colours to both the local community and visitors through a series of events over a period of ten days.
Over the years, the Falling Leaf Festival, like the season it represents, has seen many changes but has continued to flourish and grow into a fabulous annual event attracting thousands of visitors far and wide. Enjoy music, markets and food, and if you're keen there's a comedy gala the night before.
Date: 30th April
Time: From 10am
Location: Bila Park Tumut
Cost: Free
Save the Date for Batlow Ciderfest
In just a couple of months, Batlow Ciderfest will be here!
Sample some of the best boutique ciders from across the country (including those on our very own doorstep), local craft brews, and cold climate wines.
Among a blaze of autumn colours, get together with friends and family for a day of fabulous fun.
Date: 21st May
Time: From 10am
Location: Batlow Showgrounds
Cost: TBC