The Snowy Valleys Way, a scenic alternative to the Hume Highway, runs from Gundagai NSW to Beechworth Victoria. Stop the clock, skip the highways and take the slow road through forested vales, rolling farmlands and vibrant villages: It's time to linger longer. Travel through the beautiful towns of Tumut, Batlow, Tumbarumba before crossing the border near Corryong, and continuing through Tallangatta, Yackandandah and Beechworth – this is a road to remember.
Journey through misty valleys and snowgrass flats along the foothills of the Australian Alps. The tranquillity of a summer camp on a riverbank, or fireside in a 19th-century wayfarer's hotel: you'll find your place here. Pass through vineyards and bushlands, over vast rivers and through pretty villages. Pack up the van and fill your esky with local produce along the road, or sleep under the stars where the air is as clear as crystal.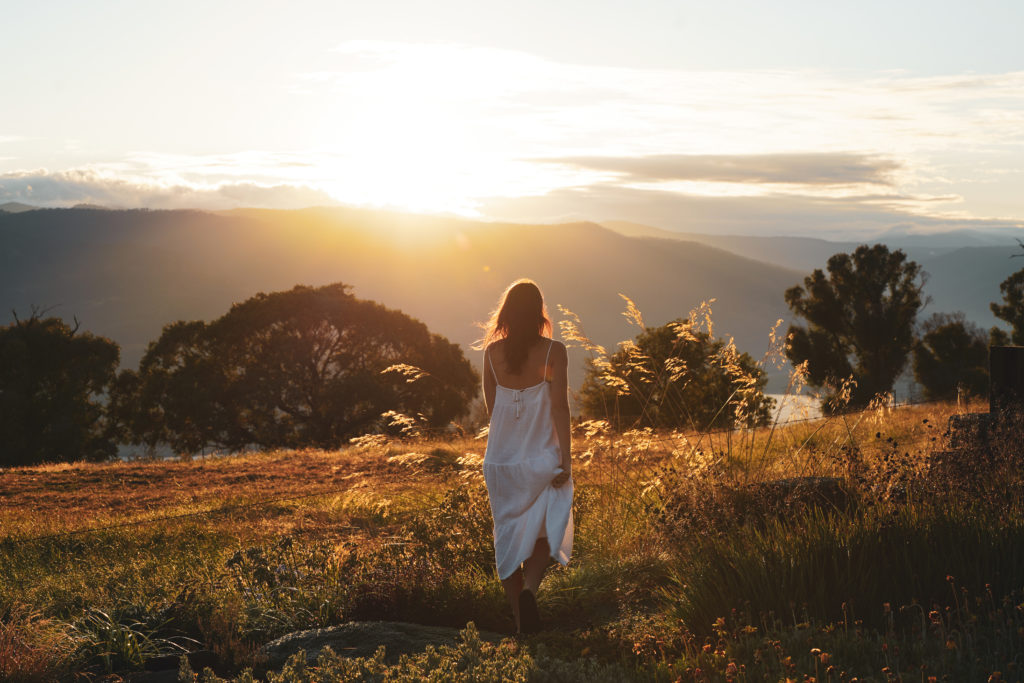 Unbridle your wanderlust, whether you seek wine or wild swimming, farmgate foraging or hiking to Australia's highest peak. So take your foot off the pedal to wander scenic trails, wade in mountains streams or simply put your feet up. Give yourself over to the lure of the road. You'll find adventure activities for all seasons: trek the high country, ski, mountain bike, or simply soak up the panoramic views with a hamper of local produce.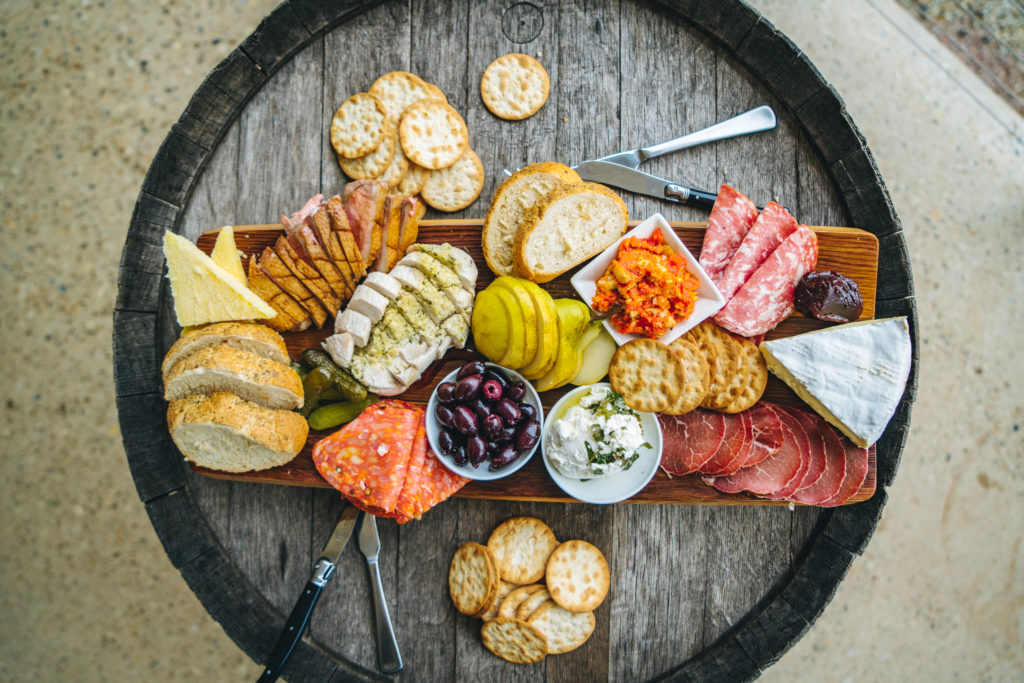 To plan your journey, visit https://www.snowyvalleysway.com.au/Alpine Way and Snowy Mountains Highway.
Looking for a longer road trip adventure? The Snowy Valleys, Snowy Mountains loop (via the Snowy Valleys Way, Alpine Way and Snowy Mountains Highway) could be your perfect road trip.
Travelling in autumn, you will have a chance to see the beautiful autumn colours of the region as the leaves turn from green, through gold to orange and brilliant red. Be aware that roads can be icy in the early mornings, so please drive to conditions.
Starting in Gundagai, head south to Tumut, where you'll find excellent fly fishing, beautiful parklands, the Tumut River Brewing Co, and so much else besides. Batlow is your next stop, with their crispy apples – don't forget to bring your esky, and stop at the roadside stalls selling the freshest produce and Crafty Cider with their own orchard of 1200 French and English cider apple trees, handcrafting amazing cider.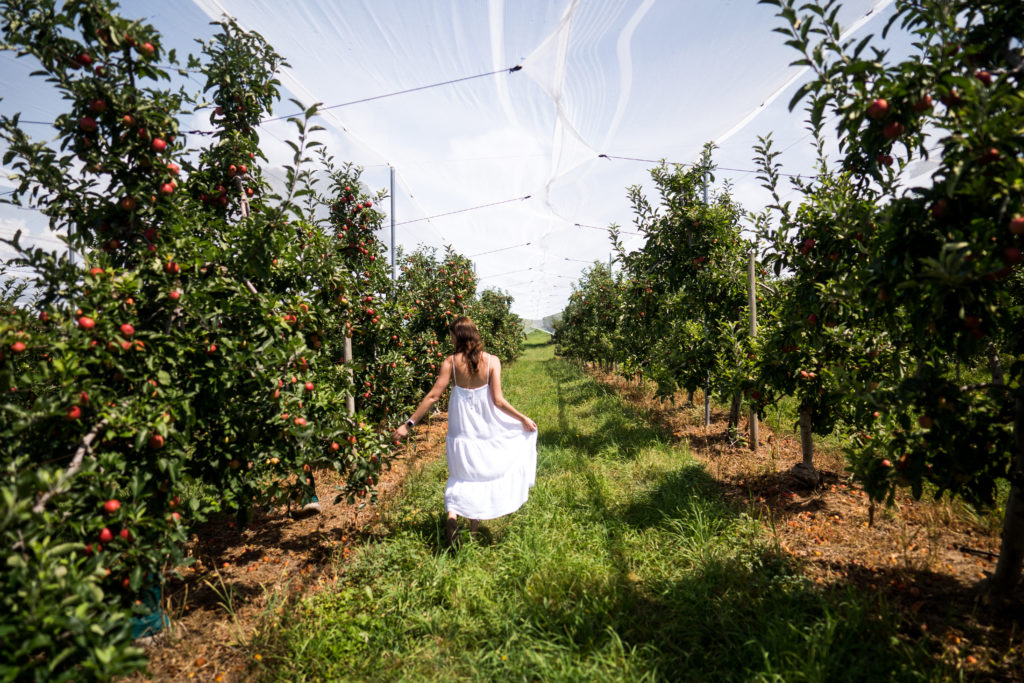 In Tumbarumba, try world-famous cool climate wines. Plan a tasting at Courabyra Wines, or linger longer and enjoy a lunch featuring the best local produce. Make sure you book in advance, as this is a popular spot! While in Tumbarumba, cycle, run or walk the Tumbarumba to Rosewood Rail Trail – 21kms of sealed trail with gentle gradients and sweeping curves. Forgot to pack your bike? You can hire an e-bike from Tumba Bikes and Blooms.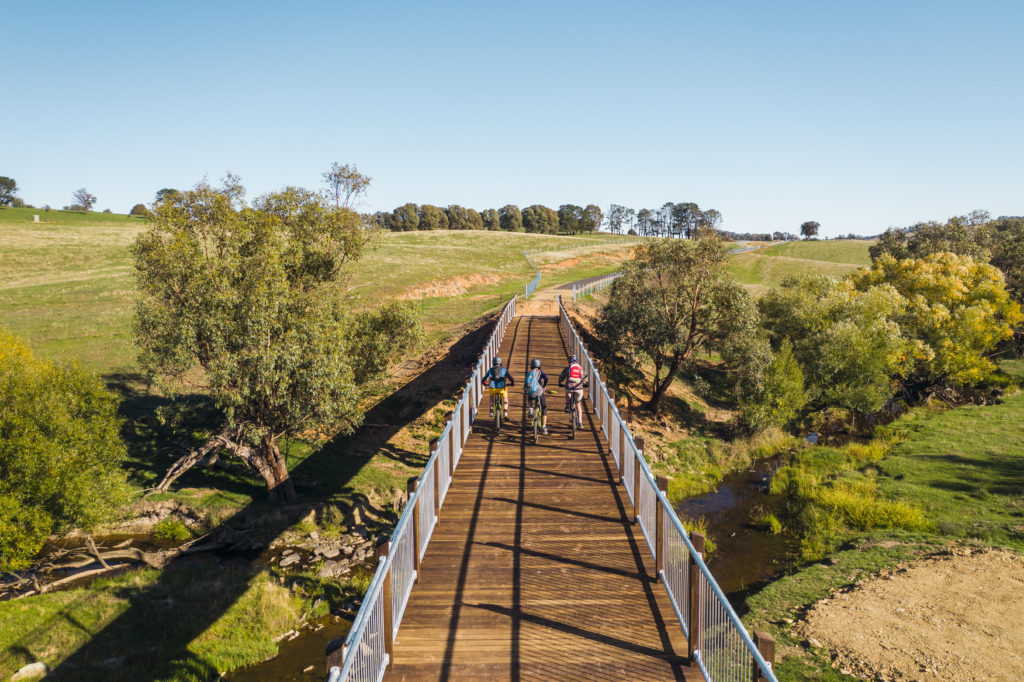 Just south of Tumbarumba, Paddys River Falls has long been a popular spot for locals and is becoming a must-see site for visitors. Lookouts located a short walk from the parking area provide perfect views of the Falls and the landscape downstream. To get a closer look, follow the walkway to the bottom.
Between Tumbarumba and Tooma, you'll find the Southern Cloud Memorial Lookout, offering magnificent views of the Maragle and Tooma Valleys, as well as the Main Range of Kosciuszko National Park.
From here, head towards Khancoban, where the Snowy Valleys Way, the Alpine Way, and the Great River Road meet. Khancoban is a great base from which to explore the Snowy Mountains, enjoying fishing, boating or hiking. Here you'll find the newly opened Pickled Parrot Providore, with local produce, gourmet products, essential groceries and locally roasted coffee.
Not far from Khancoban along the Alpine Way you'll find Scammels Lookout, with more amazing views of the Main Range. From here, it's only an hours drive to Thredbo, from where you can hike Mt Kosciuszko.
Crackenback and Jindabyne have some amazing places to stop and visit before heading north west along the Snowy Mountains Highway, through Adaminaby towards Yarrangobilly Caves and Thermal Pools. Fed by a natural spring, this is a magical swimming spot that's easily combined with a picnic and walk in the Yarrangobilly area of Kosciuszko National Park. Try a guided tour of Jillabanen Cave, one of only 4 wheelchair-accessible caves in Australia – ideal for young families and older visitors. South Glory Cave offers a self-guided tour, suitable for all ages. Both tours need to be booked in advance (due to Covid restrictions) via the NSW National Park website on the links provided.
Next on your trip, Black Perry Lookout is an excellent place for perspective, giving you a real sense of the expansive wilderness areas in Kosciuszko National Park's north. From here, head down the range to Talbingo. Crystal clear streams, cool mountain air and perfect tranquillity, Talbingo offers all this and more and is the perfect base to explore northern Kosciuszko National Park.
Heading north along the Snowy Mountains Highway, you'll pass Blowering Dam. Famous as the site of the world water-speed record in 1978, Blowering Dam is one of the biggest dams in NSW. At three times the size of Sydney Harbour, Blowering Dam stores water released upstream for hydro-electricity generation in the Snowy Mountains Scheme and for irrigation. This is a popular spot for all water sports, including skiing, jet skis, sailing, canoeing and swimming. Several boat ramps are available at camping grounds around the lake foreshore. The dam is stocked with Murray cod, golden perch and silver perch.
Blowering Cliffs Walk is accessible from the carpark at Log Bridge campground. It's quite steep in sections, but you're rewarded with ever-changing views of Blowering Dam, as well as a view of the waterfall trickling down the granite cliffs.
Heading north along the Snowy Mountains Highway, you'll arrive back in Tumut, where you can stretch your legs with a stroll along the Tumut River Walk, including the Tumut Wetlands, and the Tumut Community Labyrinth for Peace. Visit the Pretty Parrot Distilling Tasting Room, downstairs at the Oriental Hotel, to try award-winning gin and Australian native liqueurs.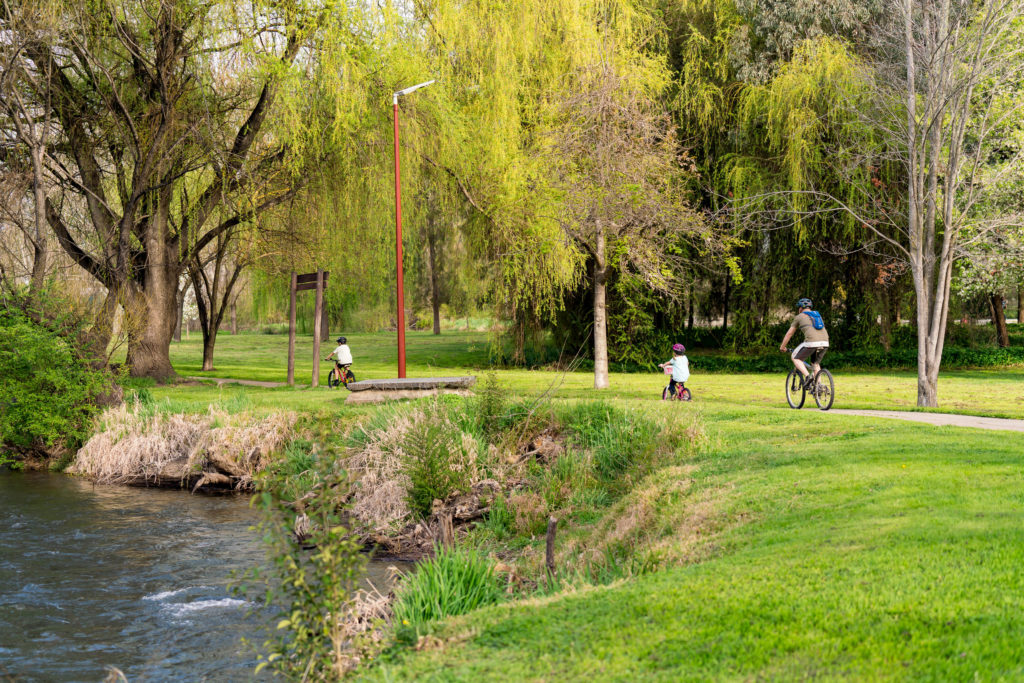 From Tumut, head west along the Snowy Mountains Highway to Adelong, nestled on the banks of the Adelong Creek, its verandah-lined main street, classified by the National Trust (NSW), has buildings dating back to the gold rush era of the 1800's. You'll discover history, perfect picnic spots, and great walks to explore at the Adelong Falls Gold Mill Ruins, a state listed heritage industrial site.
On leaving Adelong, you can either head along Grahamstown Road towards Tumblong and Gundagai beyond, or continue along the Snowy Mountains Highway to rejoin the Hume Highway.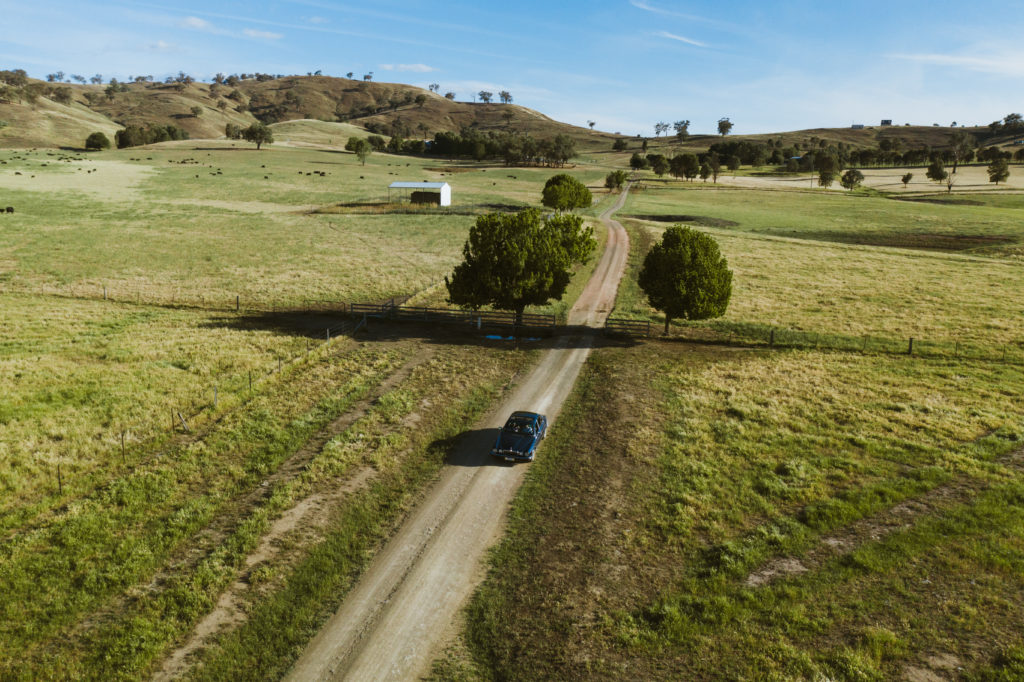 With so much to see and do on this Snowy Valleys Road Trip, you'll need to allow at least a few days to make the most of it and, if you're planning on tasting at the breweries, cellar doors, cideries and distilleries along the way, make sure you have a designated driver!
For more information see the Visit Snowy Valleys website, or follow them on Facebook or Instagram.