Is there anything better than jumping into cool water on a hot summer's day? You're spoilt for choice in the Riverina – most towns have an outdoor pool, there are several great waterslides and of course, the mighty Murrumbidgee river meanders through the whole region.
Bland Shire (West Wyalong, Barmedman, Ungarie, Weethalle)
Barmedman Mineral Pool is famed for its high mineral content – spend the day there and soak away your aches and pains. The pool is fed by an underground stream and is surrounded by shady grassed areas with plenty of space, electric barbecues, and an amenities block with cold showers. Entry is free, and you can even bring a tent, swag, caravan, or camper and stay at the campground next to the pool.
If you're holidaying with kids, Holland Park Pool has one of the best slides in regional NSW. Boasting an Olympic-sized 8 lane pool, diving board, waterslide, hydro play pool, aqua inflatable slide plus spacious grassed areas, electric barbecues, and catering onsite – you won't want to leave!
Carrathool Shire (Carrathool, Goolgowi, Hillston, Rankins Springs)
Head outback and take a dip in either the Goolgowi or Hillston pool. Both pools have recently undergone a facelift and are ready for your family. Surrounded by cooling grass, trees, shade, and home to water spouts in the infants' pool, they are the ideal places to beat the heat.
Lockhart Shire (Lockhart, The Rock, Milbrulong)
The Rock War Memorial Swimming Pool Complex has two pools, including a 25 metre outdoor pool and an undercover baby pool. Canteen facilities are available – but you can bring your own if you like! The amenities building provides all-abilities access and hot water showers. Entry is just $3 per swimmer!
Lockhart swimming pool complex is located on the corner of Brookong and Halliday Streets, Lockhart. The complex has three heated pools; including a 25m, 6-lane lap pool with a 1m diving board; an intermediate pool for specialised activities; and a toddler pool with beach entry and splash play equipment.
Canteen and barbecue facilities are available, however, patrons are most welcome to bring their own and enjoy lunch or dinner at the pool. The refurbished amenities provide all-abilities access and hot water showers.
Murrumbidgee Shire (Jerilderie, Darlington Point, Coleambally)
Dip your toe in the mighty Murrumbidgee river at Willbriggie Regional Park, Darlington Point. You can access the Murrumbidgee River from both banks. The tracks on the north side of the river meander through River Red Gum and Black Box forest. Launch a kayak and explore out on the water, throw in a line and see what bites, or simply sit back and relax.
Care to linger a little longer? You're spoilt for choice when it comes to camping spots. Head high up on the banks or get closer to the water and make the most of the sandy beaches.
Jerilderie Swimming Pool has recently opened for the 2020-2021 season. An immaculate new facility, the pool includes a new 25 metre, 6 lane lap and recreational pool. Children will have loads of fun in the shaded wader's pool, which has lovely water fountains. The facility also includes new amenities, shaded seating, and a new BBQ. Entrance fees are waived for the 2020-2021 season, so come and enjoy a cool-off.
Darlington Point Boat Ramp and Floating Pontoon has opened for the Murray Cod season. The ramp and pontoon are built on the southern side of the Murrumbidgee river, opposite the Darlington Point Caravan Park and adjacent to the Darlington Point flood levee bank.
Whittakers Bend sandy beach – a Darlington Point local secret with a wide sandy beach, located on a bend to give you fantastic upstream and downstream views of the Murrumbidgee River – great for swimming or throwing in a line.
Matt Moon Kayak Tours – Explore the Murrumbidgee River with a kayak tour with Matt Moon. Tours run for 2 hours, and beginners are welcome. To book in a tour, head to https://www.facebook.com/Matt-moons-Kayak-Tours-1153494271351722/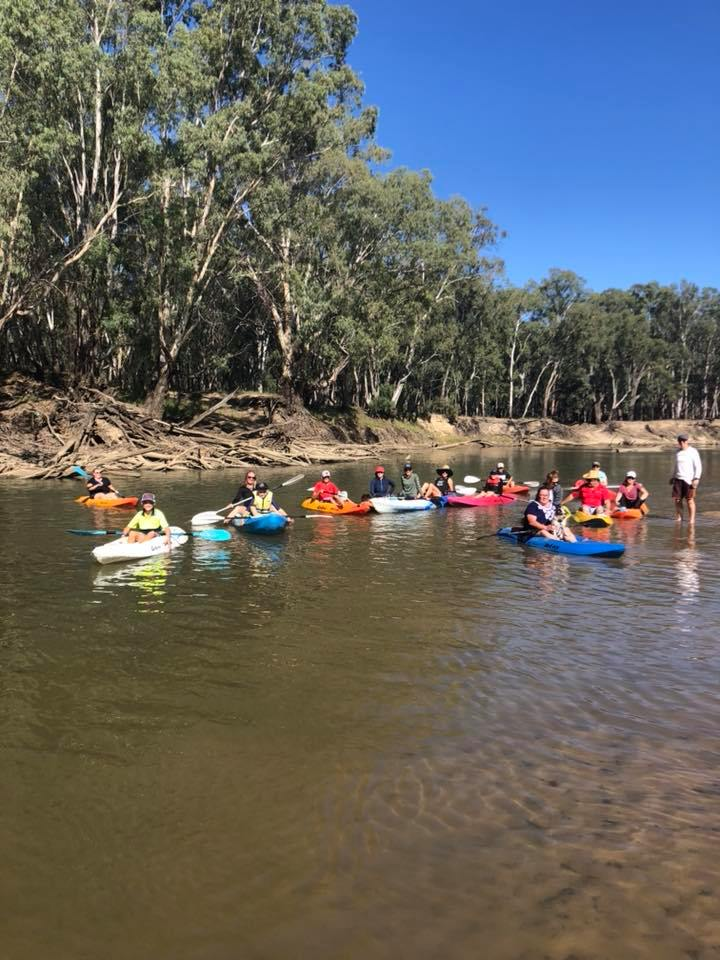 Narrandera Shire (Narrandera, Barellan, Grong Grong)
Lake Talbot Water Park is Narrandera's star attraction in summertime (though the koalas really give it a run for its money!). This year the facilities have been upgraded to be even better, with the reopening occurring in stages. Stage 1 has been completed and the eastern part of the facility is open to the public including the barbecues, water slides, kiosk, top changerooms, Olympic and middle (Rampage) pools. The splash park is due to open on 23rd December 2020, with the final area including toddler pool, bottom changerooms, plantroom roof area, bottom enabled gate, accessibility pathway and ramps opening on 22nd January 2021. We promise it will be worth the wait!
Lake Talbot adjoins the Lake Talbot Water Park and Lake Talbot Caravan Park and is ideal for boating, canoeing and water skiing. Each February the Malibu Series Waterski Tournament is held on the lake.
The Rocky Waterholes area is a place dear to locals and a popular spot for picnics, fishing, canoeing, and camping. The reinstated Rocky Waterholes Bridge links public reserve areas north and south of the Bundidgerry Creek for visitors and locals to enjoy. When you are enjoying the great outdoors you may see a Wallaby, Kangaroo, Koala, or Goanna.
Not far from the bridge there is a boat ramp, a simple barbecue, and a shelter with tables and seating, all provided to ensure this much loved, picturesque location can be enjoyed for years to come.
Snowy Valleys Council (Tumut, Tumbarumba, Batlow, Adelong)
Pools throughout the Snowy Valleys region have free entry again this summer! Pools in Adelong, Batlow, Khancoban, Tumbarumba and Tumut have great shaded areas and picnic tables, or check out the splash pad at Adelong – the perfect spot to cool down. Snowy Valleys Pools are open extended hours in school holidays, and open times varying from town to town. For opening times and other details see here.
Yarrangobilly Thermal Pool can be a wonderful place to relax on a hot day. The main pool, which is 20m long and 2.5m deep, gently flows like a waterfall into a children's wading pool. Fed by a natural spring around 1km below the surface, these subterranean waters are mildly mineralised and stay a constant 27C all year.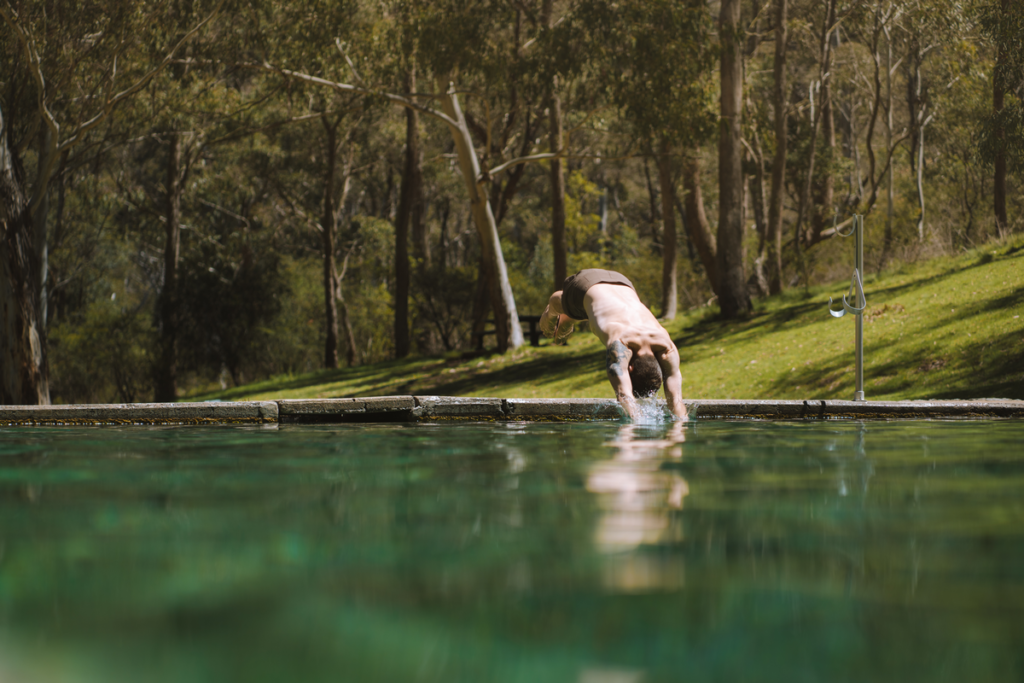 If you find the prospect of the walk back up the hill to the carpark daunting, instead follow the Yarrangobilly Caves River walk (it's longer but not as steep). The caves are also a great place to keep cool (advance bookings are a must), but don't forget to bring a jacket or cardigan as the cool temperature in the caves can be a shock on a hot day.
Temora Shire (Temora, Ariah Park)
Slide into summer at Temora, where a mammoth waterslide has just been opened! The waterslide, which promises a lengthy 25 second ride of fun per turn and will be operational for two 2 hour sessions on weekends and school holidays. Patrons can purchase an armband for $4 for either the 11am – 1pm or 3pm – 5pm session.
There is a height requirement of 1.1m, however children under this height may ride with a responsible adult. In this circumstance only the adult will pay for a pass.
Temora Recreation Centre is also home to a 50m outdoor pool, a 25m indoor heated pool and a toddler pool. There are BBQs available for public use and a kiosk serving snacks, drinks and light meals. Pool entry is $15 per family (or $5 per adult, $4 per child with free entry for children aged 1 and under).
Looking for a great day out with the family? Lake Centenary offers an abundance of activities to keep the family occupied for hours… and it's all free.
Whether it's swimming, fishing, boating or skiing, there are many ways to keep cool. Pack a picnic lunch or make use of the free barbecues and be sure to take a stroll around the scenic Lake Loop.
If you time your trip well you may just catch the cutest little pop up café in Sugar and Spice. This little vintage van sells great coffee, refreshing drinks (their watermelon crush is to die for) and light meals each Sunday and Wednesday. You may even catch a pop up shop while you're there too.
So pack up the family, plan your barbecue and head to Temora for a full day of water fun!