Get away from it all with partners, family and friends at these cosy country retreats.
A Country Experience at Ada House, Barmedman
Travelling for the holidays and need a break? Stay at pet-friendly Ada House, a quiet, historic three-bedroom home with a country feel. Fully functional kitchen, high ceilings, freshly pressed linen, and a relaxing patio area overlooking a garden. Off-street, secure parking.
The Barmedman General Store next to the cottage offers great food, dine in or takeaway so you don't have to cook. Groceries is also available from a well-stocked mini supermarket.
The General Store and Takeaway is also a fully functioning Post Office since 1906.
The small town of Barmedman offers playgrounds for the children and pets, a mineral pool, free caravan sites and RV dump point. Barmedman is the gateway to Bland Shire Art Trail.
Find them on Facebook: Ada House Barmedman | Facebook
Contact: Mobile 0414595960 | bookings@adahouse.com.au
Rest in luxury at West Wyalong
The Rested Guest is a charming three Bedroom Cottage in the heart of West Wyalong.
Recently refurbished, snippets of its other lifetimes have been gently uncovered and respectfully kept.
A slice of West Wyalong history lives on! Light-filled, with a touch of vintage elegance, this boutique cottage is the perfect space for bridal groups, families and corporate travellers.
The house sleeps six. With quality bed linen, cosy goose down quilts, electric blankets and separate air conditioning in all rooms, your comfort is guaranteed, whatever the season.
The well-equipped kitchen beckons you to prepare and eat in, and the dining table begs to be sat around. Equipped with a coffee machine, enjoy the sunrise with a cuppa on the back deck.
If soaking in a deep stone tub in a fully air-conditioned cottage is your thing, this is the place for you. Candles, a record player, a collection of vintage vinyl, and your visit could be as romantic, restful, or rejuvenating as you choose. It is also the perfect venue to get ready for your wedding day, girls get together or a boy's night out.
Pack a picnic or barbecue and stroll to beautiful Barnado Park, with great play equipment and room to run if you're travelling with children. The local pool is across the road, the supermarket and Main Street shops, eateries, clubs and pubs are only a short walk away.
Facebook: West Wyalong Accommodation | Facebook
Or contact: 0427 757 233
A Delightful Experience at Thelma's Cottage, Temora
Nestled in the heart of Temora is a little cottage that provides an experience you'll remember for a lifetime. The perfect B&B for families, Thelma's allows the kids to be entertained whilst you relax.
While some B&Bs may use their social networks to show you their tidy rooms and neat lounges, Thelma's host, Trudi Gillard, brings you the adventures of Madge and Mavis, the resident chooks. As well as providing fresh eggs daily for guests, Madge and Mavis also provide a great deal of entertainment.
"Mavis in particular, is a socialite. She loves to visit local businesses and really engages with the guests," says Trudi. "Both chooks enjoy the company of our guests and provide a great source of conversation."
With Thelma's you get the full country experience whilst being just a stone's throw from the bustling centre of Temora. Trudi loves to make preserves, jams and relishes, and her guests benefit from her toils. The fridge is always stocked with homemade goodies.
Outside the garden is a haven for children with a mud kitchen and sand boxes for hands-on play time.
The fully renovated, two bedroom cottage sleeps up to six guests, with two queen beds and two single beds. Luxury bedding, a modern stylish bathroom, new gourmet style kitchen with all appliances and equipment provided including a coffee machine and a European style laundry with washing machine and dryer, are all part of the perfect package.
Enjoy the private outdoor entertaining area with deck, lounge and cooking facilities. The secure backyard offers a trampoline, basketball hoop, sandpit and toy car track. Whether you're looking for a family getaway or a weekend retreat, Thelma's Cottage, Temora really offers it all.
Follow Thelma's on Facebook: @Thelmastemora
Follow Thelma's on Instagram: @thelmastemora
https://www.thelmastemora.com.au/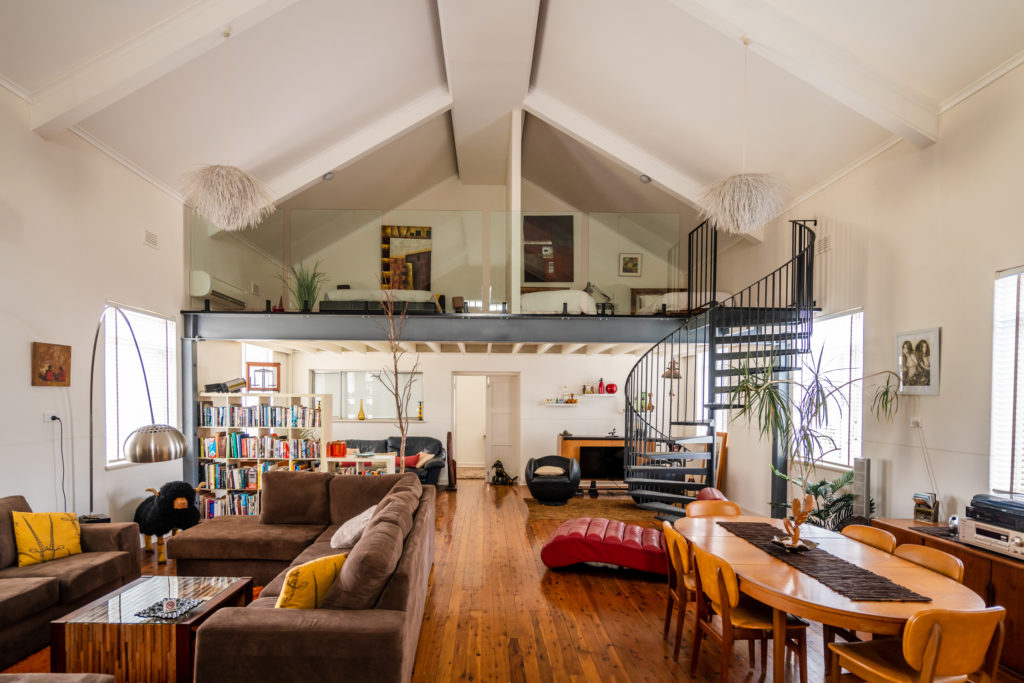 Quiet Getaway in Yerong Creek
The boutique Church Retreat is a fantastic holiday house set in Yerong Creek, on the Olympic Highway route between Wagga Wagga and Albury.
Once a Lutheran Church, the Church Retreat has been converted into self-catering holiday accommodation with a modern, relaxed atmosphere with everything you need for a fun, laid back weekend away.
The Old School – attached to the Church – was built in the early 1900's and retains its original charm and is now a games room. Enjoy a game of pool or darts while indulging in a few drinks. There are also plenty of games for kids to keep entertained.
As the sun sets, build a fire in the outdoor firepit – built into the deck – pour a glass of local wine and enjoy the serene country atmosphere.
https://visitlockhartshire.com.au/accommodation/the-church-retreat.aspx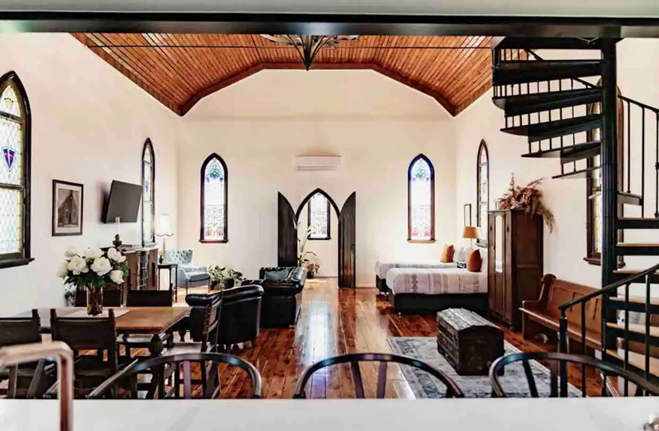 The holy grail of AirBnB in Narrandera
The perfect blend of luxury and elegance, La Mia Cappella (My little Chapel) was built in 1890 and was recently converted into a luxurious retreat, perfect for 2 or 4 people.
It is the perfect place for a romantic getaway, wedding nights, holidays or weekend retreats.
This unique, stylish, historic, church is full of charm, character, and history.