It's time to get wet and wild in the Riverina! Shake off those city vibes and get back to nature with a visit to some of our beautiful waterways and natural environments. The Riverina is filled with rivers, lakes, creeks, and wetlands just waiting for you to explore through fishing, boating, kayaking or even swimming when the weather's good. Get out into our many national parks and reserves with your binoculars and spot some of our amazing birdlife, marsupials and reptiles. For something different, check out Altina Wildlife Park – a zoofari with a twist!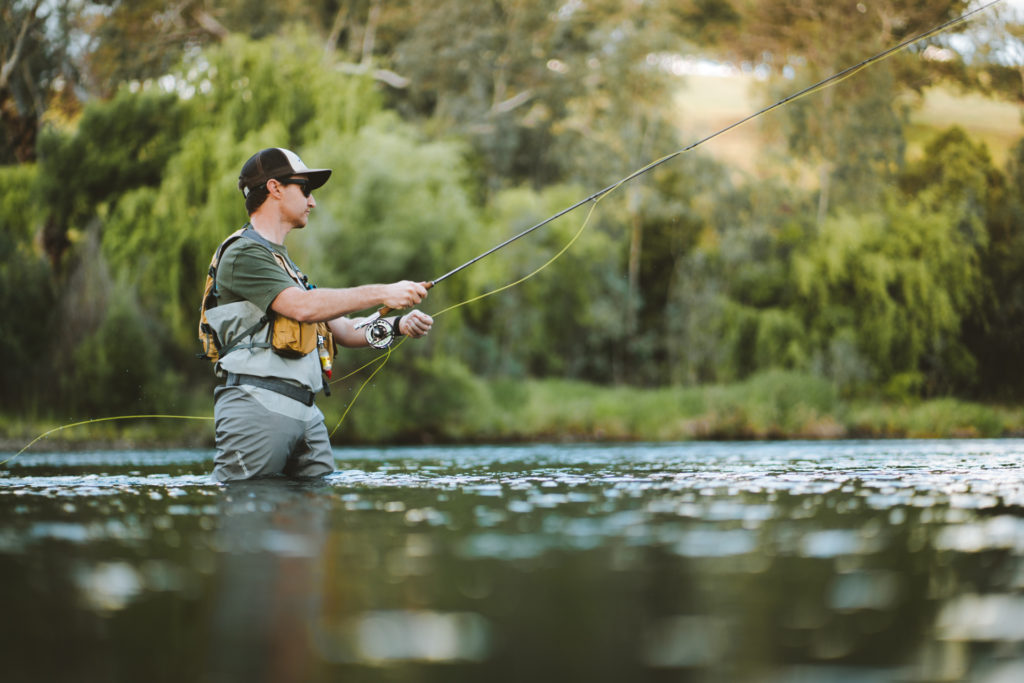 Fly Fishing season opens on the October long weekend in the Snowy Valleys region, with anglers flocking to the streams from near and far to try and hook the elusive trout. You don't need to travel far to find excellent fishing spots; the crystal-clear streams and quality of fishing is matched by the spectacular scenery. The Tumut River between The Junction and Riverglade Caravan Park is one of the best.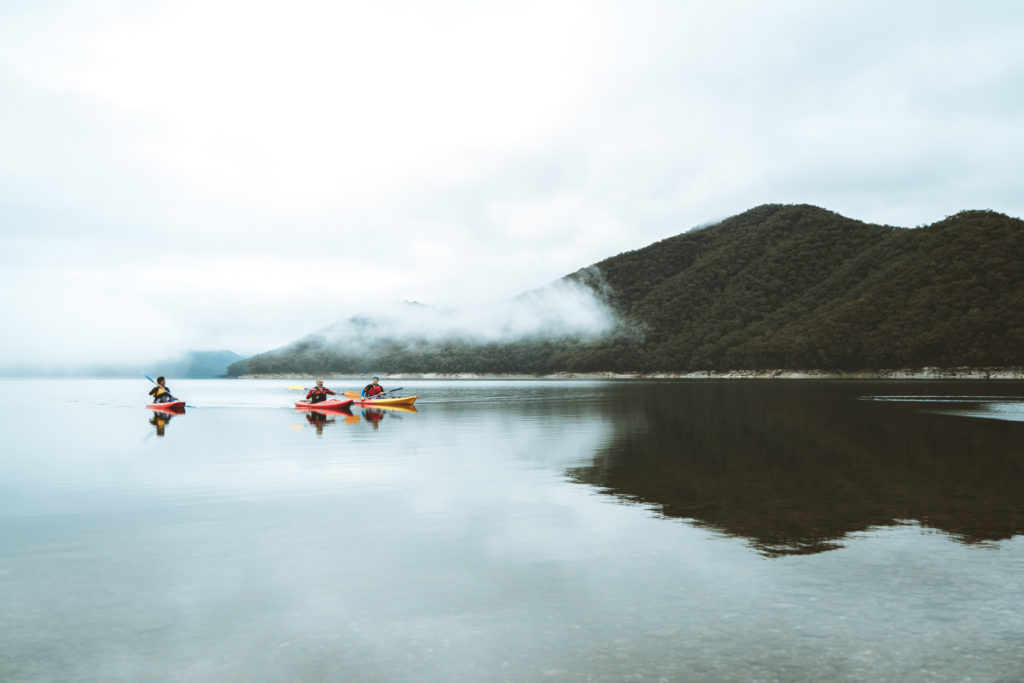 Venture into the northern end of Kosciuszko National Park to fish in mountain streams including Yarrangobilly River and Jounama Creek, or try the lower Swampy Plains River near Khancoban, a blue-ribbon trout stream. For those new to fly- fishing, lessons are available from Aussie Fly Fisher and Tumut Fly Fishing.
The beautiful Lake Centenary sits on the outskirts of Temora, connected to the township by a cycle and walking track. A hub of activity for the entire family, the breathtaking views are reason enough to visit this tranquil setting. Pack a picnic and make use of the free BBQs and children's play equipment. Take a stroll or a bike ride around the perimeter of the lake on the purpose-built Lake-Loop track, stopping to take in the view along the way. Make use of one of the many fire buckets and picnic tables located around the lake. If the weather permits, take a dip or bring the boat for some skiing. Throw out a line and catch your own dinner, or just sit and take it all in. If you time your visit well, you might also catch some seriously thrilling activity on the V8 Jetboat track.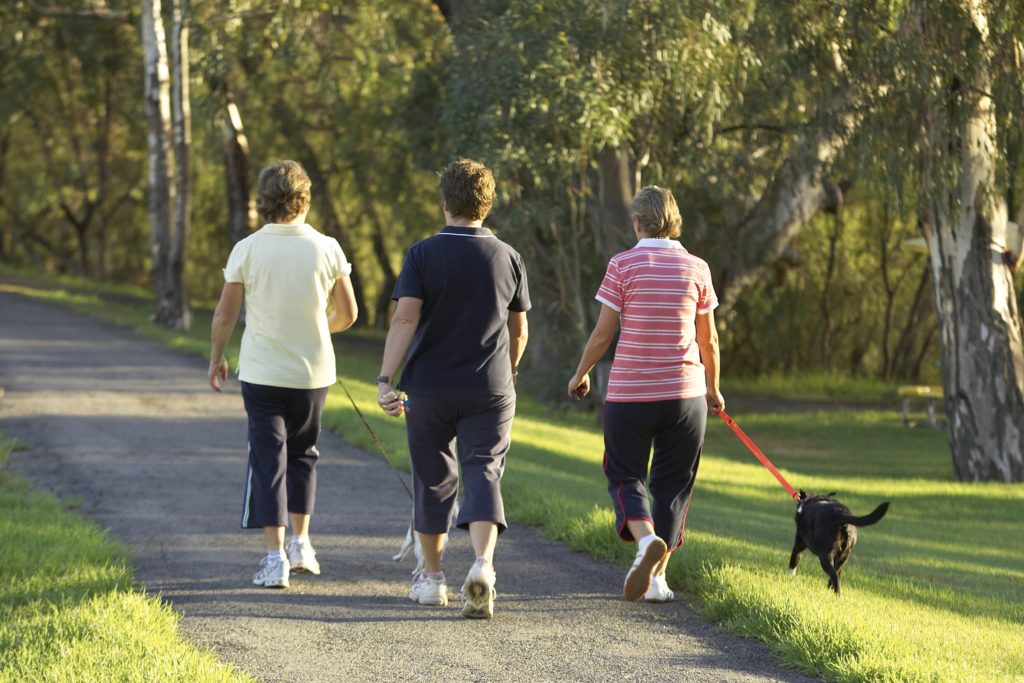 Jerilderie, in Murrumbidgee Shire, is home to Lake Jerilderie and Billabong Creek, both providing excellent fishing and recreational spots. Lake Jerilderie (on Powell Street) is a man-made lake which provides a safe waterskiing venue and fantastic recreational outlet for families. The lake is stocked with native fish and is frequented by many species of birds, including pelicans, ducks and swans. Lake Jerilderie is surrounded by an all-weather walking/cycling track and has a circuit of outdoor exercise equipment.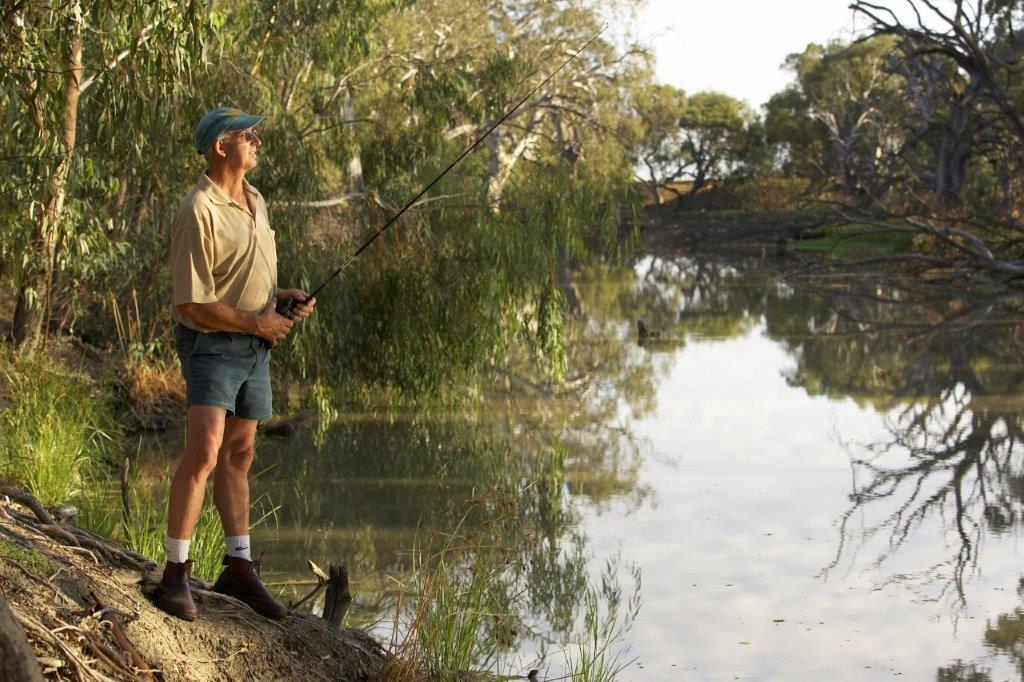 The Billabong Creek is the longest creek in the world at 321kms! There are several great fishing spots along the creek and a public fishing pontoon is located behind the Jerilderie Sports Club (where you can enjoy a beverage after catching the 'big' one!!)
Shhh! The Wetlands in West Wyalong is their best-kept secret – a project developed by Bland Shire Council as a reinvigoration of a pre-existing bird and wildlife sanctuary which can now be enjoyed as a recreational area by the community and visitors alike. The wetlands attract a vast array of common and rare species of birdlife, which are protected from predators by a purpose-built island in the middle of the sanctuary.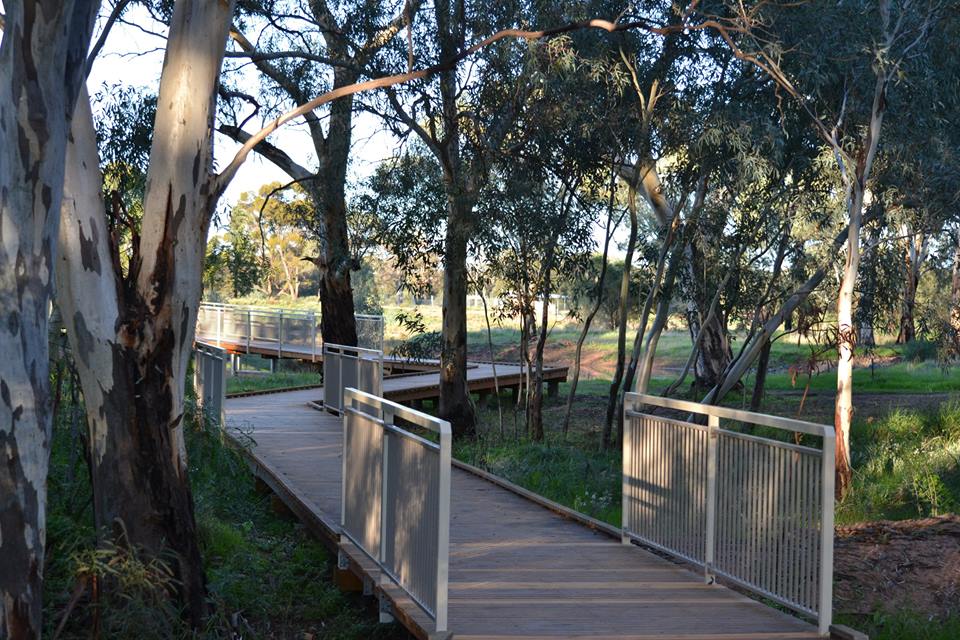 Species reported include Australasian Grebe, Hardhead Duck, Red-kneed Dotterel, Nankeen Night Heron, Singing Honeyeater, Red Wattlebird, Grey Shrike-thrush, White-plumed Honeyeater, Glossy Ibis, Black-fronted Dotterels, Pink-eared Duck, and Pelican. Golden Perch fish stocks were also released into the waters to add to the variety of wildlife. This makes it the perfect location for some birdwatching and learning about bush tucker from panels provided in the area, or bring your canoe and paddle around. You might even spot a couple of turtles in the water.
For land-based birdwatching, Gundagai is the ideal base for any trip. With the Murrumbidgee floodplain in the centre of town, you don't have to go far for good birding. Over 60 species of bird have been identified in and around Gundagai's urban floodplain, wetlands, and parks. Over 20 species of parrot have been recorded in the region including some of Australia's most beautiful, such as the Superb and Swift Parrots, as well as threatened woodland birds such as Diamond Firetails, Brown Treecreepers and Black-chinned Honeyeaters.
If watching beautiful Rainbow Bee-eaters returning to their riverbank nests, observing spectacular flocks of Galahs, Cockatoos and Corellas settling into their evening roost or viewing the charismatic Crested Shrike-Tit work away at the bark of an ancient River Red Gum sounds like the ideal way to spend an evening or two, Gundagai in Spring is the place for you.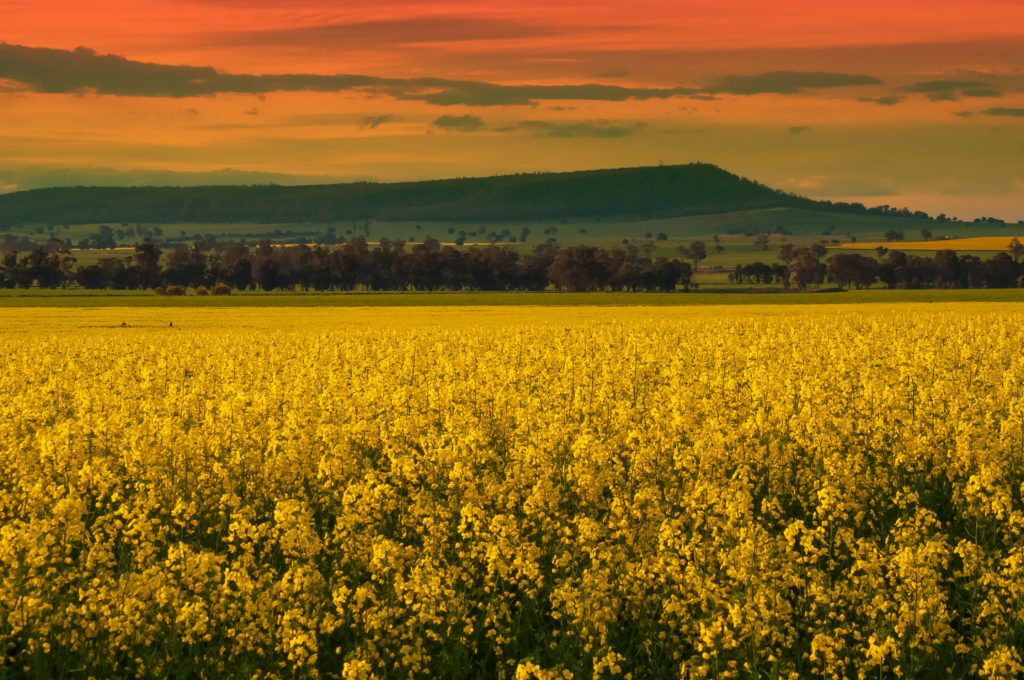 Just off the Sturt Highway between Narrandera and Wagga Wagga, Galore Hill is an impressive landmark that covers over 500 hectares of thriving bushland in Lockhart Shire. Drive to the top of the Saddle or the Summit and enjoy stunning views, well maintained bushwalking tracks, and numerous native flora and fauna. Explore the extensive walking tracks and take in the caves of infamous bushranger, Daniel 'Mad Dog' Morgan. While at Galore Hill, keep an eye out for grey kangaroos, wallabies, echidnas, black cockatoos and 140 different bird species. Over 850 varieties of Australian native plants grow here, and in springtime Galore Hill is a colourful array of wattles, grevilleas, hakeas and flowering eucalyptus.
This spring is the ideal time to visit the iconic Hay Plains as part of your school holiday road trip. An extraordinary native spring flower event has seen the legendary plains covered in a startling carpet of lush green grass and vibrant native flowers.
Paddocks are full of everlasting daisies, pig face and even desert peas! No need to travel to WA to get your native flower hit. Stop for a coffee at Cotton Wool Crema in Lachlan Street, and head out of town to pick your own bunch of daisies.
The long warm days also make it the perfect time to experience a Hay Plains sunset. The uninterrupted 360 degree view, make the Sunset Viewing area, just north of Hay, the best place in NSW to capture a sunset.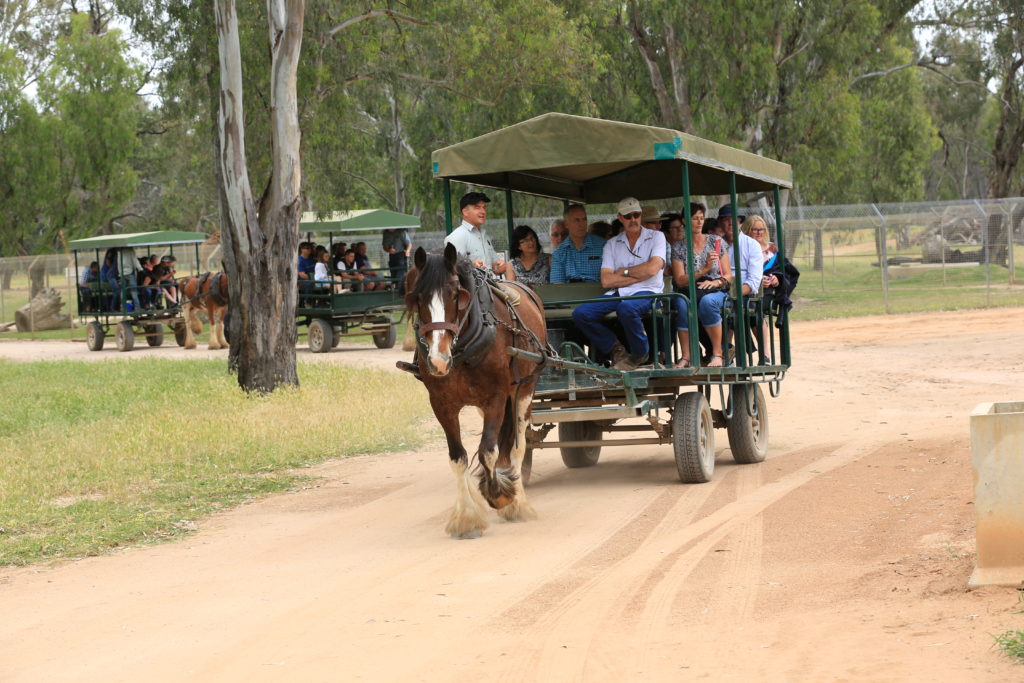 Altina Wildlife Park is an amazing private zoo found in Darlington Point, Murrumbidgee Shire. For a completely unique Australian experience, you can see a wide range of exotic, rare and native animals up close and personal while you travel in style on a horse-drawn or motorised safari cart. Enthusiastic guides from this family-run business will tell you about each animal, where they come from, their role at Altina in the breeding and conservation programs as well as their individual quirky traits. Animals are rewarded with food and treats encouraging them to get close enough for you to truly appreciate the magnificent animals ranging from lions to rhinos, giraffes, monkeys, zebra and many more. Suitable for animal lovers of all ages, all visits to the park must be pre-booked by calling the team on 0412 060 342.
For accommodation, why not try Darlington Point Accommodation Village, the perfect destination for rural getaways for tourists and families.