Grab your girlfriends and pack your bags. This is a unique weekend away for the girls that will not cost an arm and a leg and will leave you feeling refreshed and recharged.
The Ariah Park Hotel is a beautiful heritage-listed federation pub that has been serving the local community with great food, beer, wine, and accommodation for over 100 years. The pub is filled with most of the original, beautiful features from its construction in 1914. From beautiful Victorian tiles to grand staircases, this pub is truly something special.
20 minutes from Temora, one hour from Wagga, Griffith, Junee, Cootamundra, Young and Narrandera, 35 minutes from Coolamon, and less than three hours from Canberra, the Ariah Park Hotel is the ideal getaway location for your next girl's weekend away.
Ariah Park's population barely reaches 300 people but, boy does it have a lot to offer! The quaint main street is lined with peppercorn trees and old petrol bowsers that are like something out of a 1920s movie. Inside the Ariah Park Hotel, you'd be forgiven for thinking that you have stepped onto the set of a Katharine Hepburn film as owners, Paul and Jacqui, are restoring the pub to match its original glory.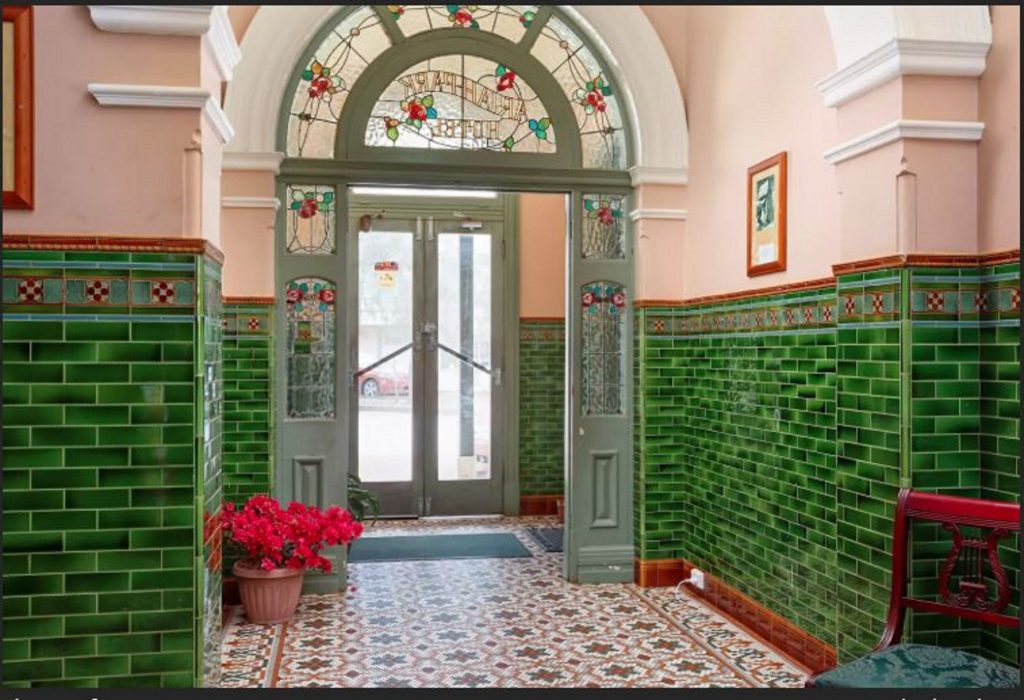 Take in the original mosaic wall tiles, the stained glass windows and the grand staircase as you make your way to one of 16 beautifully maintained guest rooms. A kitchenette allows you to do breakfast at your leisure in front of the log fire.
In the evening enjoy a wine in the stately sitting room by the large fireplace and settle in for some laughs and the best food you've tasted in a while. Perhaps a cheese platter before dinner is in order. The kitchen serves up delicious meals, including an award-winning parma, and the best woodfire pizzas you've ever tasted.
If you're lucky, you'll visit during one of the Hotel's themed nights, which are becoming very popular with locals and visitors alike. Past events have included French themes, Italian feasts, and degustation wine tastings. The most recent theme was Bush Asian Fusion, focusing on local produce with Asian influences.
Guests are welcome to access all common areas of the property including the typical Aussie country bar, pool table area, courtyard with kids play area, back yard, upstairs veranda and sitting room and the grand dining room. Make yourself at home and really relax.
If you're willing to leave the comfort of the fireplaces and bar, take a stroll through the quaint village of Ariah Park where you'll meet friendly locals, see some historic memorabilia, and discover some truly unique shopping experiences.
No matter what your needs – birthday party venue, baby shower location, or girl's weekend away – Ariah Park Hotel is the ideal place to step away from your hectic life and enjoy some downtime in historic surrounds and true country charm.
Room tariffs range from $90 to $120 a night, with single, twin and group rooms available.
Ariah Park Hotel can be found at 73 Coolamon Street, Ariah Park NSW 2665, nestled amongst the peppercorn trees and petrol bowsers, and in the truly tranquil atmosphere that is the 1920s village of Ariah Park.